I'm enjoying a cappuccino at a sidewalk café. The tree providing shade is a century old, the church across the way much older. The neighborhood is historic, with restored buildings lining narrow streets for a dozen blocks in any direction.
I'm in Mérida, Mexico, the third-largest Spanish colonial district in the world, after Havana and Mexico City, surrounded by centuries-old colonial homes, churches, and grand buildings.  
Expats discovered this city in the late 1980s, attracted by its charming character and rich history. They found a crumbling colonial district…with potential. Expats spearheaded the restoration of many colonial homes. Today these serve as art galleries, hotels, and restaurants, as well as private residences.
You can't get the same "ridiculous" deals as back in the day, as one veteran expat told me. But there are still reasonably priced colonial properties. While in Mérida, I saw a two-bedroom, restored colonial home with original floors, vaulted wood-beam ceilings, and a walled outdoor courtyard on sale for $110,000.
There are rentals, too, if you'd rather not commit to buying something just yet. Restored colonials in the historic area tend to be higher. (Think $975 a month for a two-bedroom colonial house in the heart of town.) But go outside the centro (but still a taxi or bus ride in), and you pay less. When I was there, three-bedroom houses were listed at $500 a month.
Lovers of the arts are spoiled for choice here in Mérida. The city has its own symphony orchestra and an opera company, festivals, and indie and foreign films. Prime seats to see the orchestra at its home theater are $40, with tickets as low as $20. But many events at other venues featuring chamber orchestras, string quartets, or other groups, are free. You'll also find museum and art galleries featuring local and expat artists.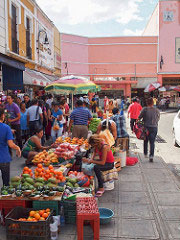 "There's so much here it's mindboggling," says expat John Rutledge. "You can't possibly do it all. There are so many events, and it's posted everywhere. Most of it is free or really cheap. There's traditional music, the symphony, dance, art galleries, museums…they had a Rembrandt exhibit…Picasso, Warhol. It's amazing."
You can definitely live very well here for less than in the U.S. or Canada. Many retired couples report budgeting about $2,300 for all their monthly expenses, including housing.
Outside the historic centro, you have a modern city with gleaming shopping malls and big-box stores, as well as modern condos and gated communities. But everybody comes to centro for nights out, dinners, and cultural events.
Many local expats get their shopping done at local markets, either the smaller market in their neighborhood or a market in the colonial center that dates back to the 19th century. It's a must-visit if you're in town: blocks of street stalls, shops overflowing onto the street, and rows of vendors selling everything from mangos to fresh-made corn tortillas to cell phones.
It's also a center for top-quality medical care. With two excellent hospitals, Mérida has become a center for medical and dental tourism, where visitors from the U.S. pay a fraction of what they would in the States. Cataract surgery, for example, starts from around $900 per eye. A routine doctor's visit will run you $46. And an overnight stay in a hospital will set you back around $100.
Get Your Free Mexico Report Here:
Learn more about Mexico and other countries in our daily postcard e-letter. Simply enter your email address below and we'll send you a free special report – Why Millions of Americans Are Moving to Mexico.
This special guide covers real estate, retirement and more in Mexico and is yours free when you sign up for our postcards below.

Get Your Free Report Here