Want to lose five pounds fast? Instead of spending mega-bucks at an exclusive fitness spa, how about moving to the UNESCO World Heritage site of Guanajuato, Mexico? A friend who tends to puts on weight drops five pounds every time she returns to town after a trip to the States.
My husband and I discovered Guanajuato on a trip to central Mexico in 1999. We were entranced by the tightly wedged houses, gaily painted the colors of watermelon, lime, and tangerine.
After that first visit, we kept returning, lured by the city's beauty and charm, until we finally succumbed and bought a house. Now we divide our life between Guanajuato and Eureka, California.
One of the things we like best about the city is its unusual shape. Guanajuato is a steep V-shaped town in a valley surrounded by hills 1,000 feet higher.
We don't have a car, which turns out to be a great fitness advantage: we do everything on foot. By simply taking advantage of the town's physical contours, we naturally stay fit. We're usually heading either up or down—and as any physician will tell you, inclines are great for the heart and the lungs.
As with many Mexican towns, it's easy to want to walk around Guanajuato because the city is so pedestrian friendly. Streets and small, inviting squares, gracefully landscaped with flowers, shrubs, benches, and fountains, are filled with people, providing a sense of safety. Mexicans seem to have an intuitive understanding of how to design public space.
Some days I wander the alleys that twist and turn in this vertical souk of a city. My walks feel more like explorations than exercise, and before I know it, an hour has gone by. If I'm feeling especially tough, I'll seek out a set of steep steps, wedged into the ravines that the city is built on.
Guanajuato's elevation, at 7,000 feet, also helps. People who live at high elevations have less risk of heart disease and tend to be healthier.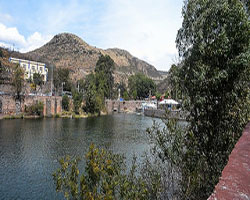 Twice a week we go exploring in the semi-desert landscape. It's simple to do. We just shut the front door and 10 minutes later we're looking down at the city. It's an hour each way to one of the white crosses that crown any number of the hills. If we prefer a gentler route, we walk the gravel road to the village of Peñafiel.
On Sundays we bicycle along La Panoramica, the road that circles the city. Mountain bike enthusiasts ride for hours on the dirt tracks near the small town of Valenciana, high in the mountains just above Guanajuato.
Swimmers use the state-of-the-art Centro Acuatico, an Olympic-size swimming pool with expansive windows and views. Other expats take yoga, Pilates, Zumba, or Tai Chi classes. Gyms exist, but you hardly need one.
As satisfying as it is to get in shape, fitness isn't the only dividend we gain by living in Guanajuato. We also save money because the cost of living is less. In our household of two, we spend $8 per month on drinking water, $100 a month on utilities and property tax, and $250 a month on groceries. We paid $107,000 for our home in 2005, but we know other expats who bought houses for much less. House costs are widely variable. Concerts or movies cost between $3-$6.
So if you too want to get in shape—without breaking the bank—forget the glitzy spa! Savor the beauty of Guanajuato and you'll get fit without even realizing it.
Get Your Free Mexico Report Here:
Learn more about Mexico and other countries in our daily postcard e-letter. Simply enter your email address below and we'll send you a free special report – Why Millions of Americans Are Moving to Mexico.
This special guide covers real estate, retirement and more in Mexico and is yours free when you sign up for our postcards below.
Get Your Free Report Here