I have never been much of a city person. As a true-blue Aquarian I am much happier near water. Despite this, the city of Mérida, Mexico captured my heart and imagination.
Colonial Mérida, in the Yucatán province, is a stimulating city that prides itself on offering an enjoyable experience to residents and visitors alike. This very affordable city has many bargains and is teeming with culture and music.
Centennial Park is home to a free zoo where you can take a stroll and visit well cared for animals. One of my favorite treats is riding the train that skirts the zoo. At just five cents, who could resist such a temptation? Taxis in Mérida run between $1 and $3 per trip, but I find Mérida a very walkable city.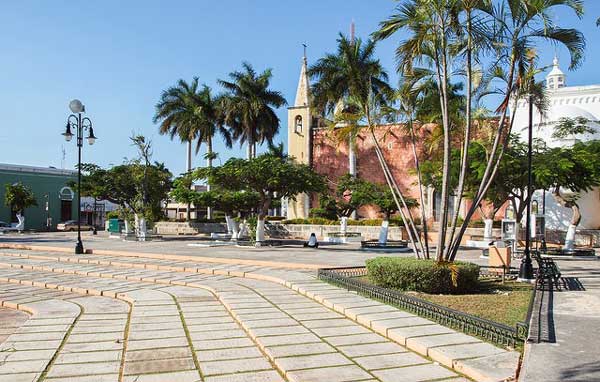 Mérida is graced with continuous blue skies and as much heat as you wish. Come prepared with your summer clothes and you won't be disappointed. Buses and collectivos (shared taxi-vans) are ready to take you anywhere if you are willing to travel like a local. You can also choose to hop on an air-conditioned tour van that will whisk you to many famous ruins and cenotes nearby. I recommend Uxmal, a grandiose piece of Maya history. It is not as crowded as some of the other renowned sites. Progresso, on the Gulf of Mexico, is only 40 minutes away—an easy trip for those like me who need to reconnect with the water.
A vast array of fresh tropical fruits and veggies can be purchased for just a few dollars. To savor hot corn tortillas, head to one of the many open air markets where about 2 pounds' worth will leave you less than $1 poorer. Need a haircut? Many small salons offer men's and women's cuts for about $3.
There are dozens of local restaurants, such as Las Vigas, where you can enjoy a wholesome meal for about $2.80. One of my favorite Maya restaurants, ChayaMaya, serves fresh local fare and you can watch Maya women preparing fresh corn tortillas for your dinner.
A few blocks further along, I discovered the very lively bar La Negrita. It is a favorite hangout for the young local crowd on the weekends and famous for live Cuban music nightly. Imagine oversized drinks, no minimum, no entrance fee, and plenty of yummy free tapas called botanos. Within the city center there is free outdoor entertainment every night of the week.
There is a discreet police presence in Mérida, making the area very safe for locals and visitors alike. I always found them to be friendly and engaged in their community. The city is family friendly and I feel safe strolling at night. Passing strangers smile and greet you with a heartfelt "buenas noches."
One of my favorite past times is "people watching." Just pick a bench in a busy park and observe the bustle around you. Often, residents stopped and introduced themselves to welcome me to their country. Yucatecans young and old are cheerful and friendly, and their joyful spirit is contagious.
Mérida is a fabulous urban environment that even someone who doesn't take easily to cities can be at home in.
A note from our Roving Latin American Correspondent
Mérida, Mexico – The Colonial Gem on the Yucatán Peninsula
by Jason Holland
On the western side of the Yucatán Peninsula is Mérida. This Mexican town of one million hosts the third largest Spanish colonial quarter in the world. And the historic centro is full of centuries-old homes, churches, and public buildings, as well as charming plazas, parks, and squares.
Retirees and other expats "discovered" Mérida in the late 1980s and every year more and more North Americans and Europeans make the move, many of them renovating colonial buildings, turning them into private homes, B&Bs, restaurants, art galleries, and boutiques. The historic structures are known for high ceilings, tropical hardwood finishes, vividly colored tile floors and interior courtyards.
In this video tour, IL Editor, Jason Holland offers a look at the historic centro of Mérida, the city's main market, and more.
Related Content
Moving to Mexico – 10 Reasons to Move to Mexico