"No matter what the day, there are many beautiful beaches or cenotes (underground, fresh-water springs perfect for swimming) I can visit after a day of work. The weather is always warm and there is always something fun to do—more cenotes to discover or another snorkeling adventure to experience. I love Cancún," says Ericka Van Iperen.
Ericka moved to Cancún, Mexico in 2014. She had been working on a cruise ship for eight years and visited Cancún many times because of it. "I've travelled the Mediterranean, seen nearly every Caribbean island and all of Central America. I've visited many places in South America and have experienced most of the U.S. But when it came time to settle into one place, the choice wasn't difficult," says Ericka.
Cancún is the northern gateway to an 80-mile stretch of picturesque, white-sand beaches, and warm, clear, Caribbean water known as the Riviera Maya. Located on the northeast corner of Mexico's Yucatan Peninsula, Cancún is a city of nearly 1 million people. Boasting dozens of glitzy, all-inclusive resorts, and over 750 restaurants to garnish the spectacular beaches and tropical weather, Cancún is the Caribbean's most popular vacation destination. And not only that, but it's also home to a growing number of expats who have claimed this world-class vacation destination as their residence.
Cancún offers proximity to the U.S. with flights from its bustling international airport to Florida or Texas taking less than two hours. Seven hospitals and numerous clinics ensure modern, professional medical and dental care at a fraction of the prices it would be in the U.S. Numerous modern shopping malls, big-box stores, super markets, modern theater complexes, and famous brand stores and restaurants compete for business with local shops and open markets. It's easy to understand why Cancún is popular with tourists and expats, alike.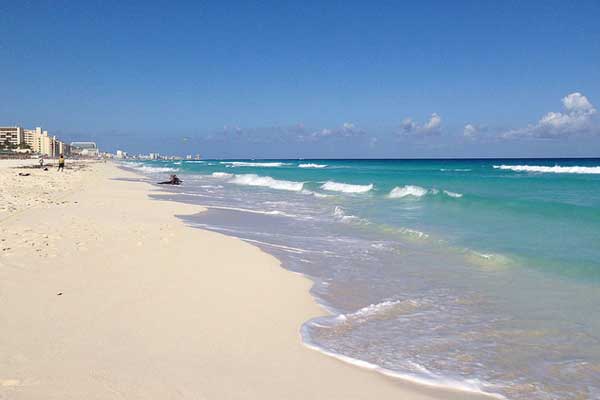 "I've been involved with music and the performing arts most of my life and I teach a variety of music classes at a well-known academy here. I teach piano, singing, and composition. In addition to my position at the school, I also accept private students throughout the area and manage to find time to host workshops as well as performing in a variety of local venues," says Ericka.
When Ericka knew she was going to make Cancún her home, she utilized her contacts to help secure her position at the music school before she arrived. And while landing a job right away was a huge advantage, she says she still had a few challenges.
"I really wanted to make a difference in the community and I believed that my teaching would do that. But, I wasn't completely confident in my Spanish. Processes here take time and can be confusing, if Spanish isn't your first language", Ericka recalled.
Ericka has found a very comfortable housing situation and says she spends only about $260 per month in rent. "I have a beautiful apartment, in a nice area, which I share with some roommates. It has a gorgeous garden area, it's completely furnished and has two pools. It's in a secured complex, too. My portion of the rent is $260 dollars and that covers everything. I have my own room and private bathroom," says Ericka. "And it's only a few minutes to the beach."
Ericka believes a very secure and full life can be had in Cancún for $1,500 per month, or less.
"It depends on how much you eat in restaurants or go on excursions and adventures. I never sit at home bored," she says. "The beach is always calling. I love to go boating, too—several friends have boats. You don't need a lot of money to live here. I do just fine," says Ericka.
"The best advice I can give anyone considering a move to Cancún is to be open-minded. Remember, Mexico is a different country and things are done differently here, often much different than back home. Take your time and be patient. You have to learn the local ways for everything but when you do, life becomes really sweet. I truly love my life here."
Need a Way to Fund a New, Better Life?

Join our Fund Your Life Daily e-letter today, and you'll hear from us five times a week, telling you about ways to earn income that lets you live anywhere, travel anytime… and give you the funds to make your dreams of a better life real. We'll also send you your FREE report Fund A New, Better Life With These 6 Portable Careers.
Related Articles