"We love the weather, the beach, the people. Nobody cares what your last name is or your backstory. It's very casual," say Vicki Lyall of her home in Playa del Carmen, on Mexico's Riviera Maya.
Vicki and her husband Scot had been visiting this Caribbean paradise for many years. And it was on a trip nine years ago they happened to stroll by a real estate office.
That's when they starting thinking of making a more permanent move.
They checked out some properties over the next few days. When the opportunity to buy a two-bedroom condo in a beachfront building at a good price came up, they jumped at the chance.
Their condo is just a couple blocks from the north end of the famous La Quinta Avenida, a miles-long pedestrian avenue chock-full of restaurants (from sushi to Argentinian to sports bar to Mexican), bars, boutiques, department stores, and more. It's the beating heart of Playa del Carmen and one of their favorite spots for a night on the town.
Of course, having the white-sand beach and warm Caribbean waters just outside your door is a big bonus, perfect for watersports, late afternoon strolls, or just hanging out. There is also plenty of parties and celebrations among their expat friends. "There are lots of get-togethers, happy hours with friends, and dinners out," says Vicki.
One of the motivating factors for moving for the couple was to escape the harsh winters of New England. They certainly did in Playa, where summers reach into the low 90s F during the day and winters into the 80s F. Nighttime temps dip into the 70s F, making for very comfortable evenings out.
And while the Riviera Maya can have some really hot days during the summer, the couple find that their location is ideal to beat the heat. "We get a sea breeze and leave the windows open," says Scot. "We have the beach right in front and nothing behind but open space."
The Lyalls have experienced a major cut in their cost of living compared to living back in Boston. Dinners out and visits to the grocery store are about the same price as the U.S., although fruits and veggies at the farmers' market are cheaper.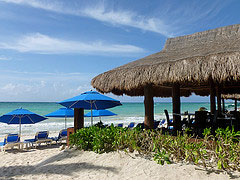 "Overall, it's 50% of what you would pay in the U.S. for the same standard of living," says Scot. "Dentistry is every bit as good as the U.S. and the price is one-third of the U.S. And if you get sick and see a doctor, it's $50 for a half-hour to hour appointment."
Aside from getting a great deal on their condo, they also feel like they do well with the ongoing expenses with the property. The HOA fees are $125 a month—that covers the meticulously landscaped grounds, 24-hour guard, a maid for the common areas, and a community pool. Their property taxes come to $140 a year. And they save 25% if they pay before January 1st.
The savings certainly gives them peace of mind and allows them to truly enjoy their retirement. They do what they want to do, when they want to do it.
They're also involved in the community. Vicki is the condo president and was instrumental in bringing a weekly farmers' market to their complex every Friday. And it's not just for residents; it brings in more than 100 people off the street. And for two years Scot called on his professional skills and volunteered as a dentist every week at a local free clinic and he's also involved in an English-speaking Rotary Club.
"You come here and there's so much energy," says Scot. "I have three times more friends in Playa than I had in New England. It's a very open and friendly community."
For the Lyalls, life is good in Playa del Carmen.
©iStock.com/YinYang
Get Your Free Mexico Report Here:
Learn more about Mexico and other countries in our daily postcard e-letter. Simply enter your email address below and we'll send you a free special report – Why Millions of Americans Are Moving to Mexico.
This special guide covers real estate, retirement and more in Mexico and is yours free when you sign up for our postcards below.

Get Your Free Report Here