Cancún's huge, maze-like outdoor mega-mart, Mercado 23 is where locals go to find the best deals. Here you'll find dozens of food vendors and fish mongers, a large aromatic spice shop, butchers' markets filled with cages of squawking chickens, sweet-smelling bakeries, and a dizzying array of specialty shops.
Unfortunately, as entertaining and culturally enriching as it is, most visitors to Cancún never find their way to Mercado 23.
Too many who visit Cancún, Mexico (the Caribbean's top tourist destination) make the mistake of never leaving the confines of their all-inclusive resort. Some venture to the heart of the Hotel Zone where a dense concentration of clubs, bars and restaurants offer entertainment for every taste. But few ever see the real Cancún.
A few miles from the sand sits an opportunity to immerse yourself in the local culture; an eclectic mix of Mestizo and Maya language and traditions. Encompassing several square blocks, Mercado 23 is a colorful, bustling, crowded and fragrant tangle of store fronts, brimming courtyards, portable vending booths, hidden nooks, crowded alleyways and artistic homemade push carts overflowing with merchandise. A dazzling combination of carnival midway and outdoor superstore, Cancún's largest open-air market is the place to go for the best deals and widest selection of fresh fruits and vegetables, authentic and economical restaurants, spices and herbs, artisan goods, household products, piñatas, clothing, and almost anything else you can think of. A visit to Mercado 23 is more of an authentic cultural experience than a souvenir run.
Cobblers will repair your shoes while you wait and watch; a seamstress may alter a dress in less than an hour; you can get your hair cut for less than $2; and a butcher can prepare a live chicken for your afternoon meal to suit your order.
You can even watch as an artisan creates a colorful piñata in his shop, dragging dripping strips of paper through a large basin filled with a chalky solution before applying it to the emerging figure in front of him.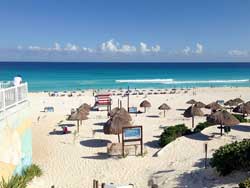 It takes a few visits before you can feel comfortable navigating the complex network of narrow pathways, alleys and intersections. Restaurants are generally located in the center of the maze, produce occupies its own quadrant, and another section houses meats, fish and poultry. The rest of the place appears to be a glorious free-for-all with no discernable method of organization.
The larger vendors are well organized with prices clearly displayed. Produce is weighed and charged according to the fair prices that are marked. Prices in the butcher shops are also well marked and charged accordingly. It never hurts to try to get a better price, but if you watch the locals in line ahead of you, you will see them paying the posted price without haggling. Smaller vendors may be inclined to accept a lower price, but usually the prices are reasonable.
The restaurants in the center section are family-run enterprises serving authentic Mexican and Maya dishes. Several of the best meals I've had in Mexico have been served to me in one of these small eateries, with live music providing the background. This is Mexico's home cooking at its most authentic. The meats are slow cooked for hours, seasoned as it has been for generations. The sauces are all freshly made and the tortillas are handmade throughout the day and grilled for each order.
Mercado 23 offers a glimpse of local life you just won't find in the Hotel Zone. If you're interested in experiencing a little local flavor, it belongs on your "must see" list the next time you are in Cancún.
Get Your Free Mexico Report Here
Learn more about Mexico and other countries in our daily postcard e-letter. Simply enter your email address below and we'll send you a free special report – Why Millions of Americans Are Moving to Mexico.
This special guide covers real estate, retirement and more in Mexico and is yours free when you sign up for our postcards below.
Get Your Free Report Here