"You know Mr. Murray, you are in the gayest hotel in the gayest city in Mexico." That was the greeting I got from the hotel clerk in Puerto Vallarta, Mexico.
It's at times like these I realize how being part of International Living can take you to the most interesting and unusual places!
And that's how I ended up in Puerto Vallarta…I was here on an exploratory trip to find out what this well-known vacation destination, on Mexico's Pacific coast, offered as a retirement location.
What I found in Puerto Vallarta was a picturesque town, with an active expat community, and a vibrant art and theater scene in a spectacular coastal location on Banderas Bay. Nestled against the Sierra Madre mountains, Puerto Vallarta looks as if it was actually built into the sides of the cliffs, eventually cascading down onto the beach. Older neighborhoods have spread their roots into the steep hillsides and newer, modern condos reflect the spectacular sunsets from the glass and steel of their elevated vantages.
A walk along the malecon (boardwalk) is a treat. Local vendors offer their handmade craft items from small booths while others prepare fresh tacos and soup, the steamy, lingering aromas blending with the fresh salt air. Beautiful metallic sculptures add to the joy while strolling among cool bars, bistros, and galleries. A variety of music from modern rock to folk, traditional Mexican, and funk spills onto the street from open doorways as musicians provide a mixed soundtrack to every evening.
I had so many questions about living in Puerto Vallarta: What do folks do all day long? How do they handle medical care? What about local transportation options, entertainment and shopping? What kinds of recreational opportunities exist? Is there a good selection of restaurants in the area? Is it safe?
Luckily I met some wonderful people who had all those answers for me. Take 73-year-old Trenie. She proudly showed me around her wonderful furnished home for which she pays less than $500 monthly. She also told me where all the places for free martinis on ladies' nights could be found. She and her friends go out nearly every night and her monthly budget is about $1,000 all in.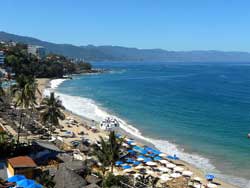 Mike and Tricia explained why Puerto Vallarta was the winner in their search for a retirement destination. After visiting five countries and over 30 cities, Puerto Vallarta's culture, climate, and location beat all else for them. They made me tired just listening to the amount of things they do each week.
And one of the things Mike was doing when I visited was participating in an amateur drag-queen show. It was a fundraising event for a local women's shelter, and he bought me a ticket to go along. Local gay men and drag queens served as coaches for Mike and eight other straight guys as they teetered and tottered around in five-inch heels and tight dresses…and seven of those eight brave, heel-wearing volunteers were expats. Beards were died and heavy makeup and wigs applied as, through a variety of performances, they each tried to "out drag" one another. The end result was wonderful as these guys raised about 40% of the annual operating revenue required for the shelter.
It's not just during the course of my work for International Living that I marvel at how much my life has changed in the last few years. I never imagined that I'd be retired overseas…let alone be traveling to explore pretty, affordable, beach towns where men will put on dresses to raise money for their local community.
You see, six years ago I was an International Living reader, just like you. And if it wasn't for IL's research and guidance, I'd have missed out on this best chapter of my life. I've learned from experience, when you are part of the International Living family…you just never know where you might end up or what adventure you might discover.
Get Your Free Mexico Report Here:
Learn more about Mexico and other countries in our daily postcard e-letter. Simply enter your email address below and we'll send you a free special report – Why Millions of Americans Are Moving to Mexico.
This special guide covers real estate, retirement and more in Mexico and is yours free when you sign up for our postcards below.
Get Your Free Report Here