After 35 years in soggy Seattle, Pat and Russ Huber were ready for a drier, warmer climate. They thought that Santa Barbara, California, close to friends and family and with much improved weather, would be their solution. They sold all their stuff, putting only a few things in storage, loaded their car, and headed south, looking forward to their new lives. But after about a year in California, Pat encountered a major medical issue.
"I learned that I needed hip-replacement surgery," she says. "The price the doctor quoted was beyond our reach for only one hip and I needed two."
Too young to qualify for Social Security or Medicare, and with no medical coverage since she left her job, Pat was in a bit of a bind. As immediate surgery wasn't an option, the doctor told Pat that she needed to move to a warm, dry climate away from coastal humidity.
"I asked Russ if he remembered a quaint little community in Mexico we had visited some years before," Pat recalls. "It was Ajijic (Ah-eee-eek) right on the shore of Lake Chapala. The climate was perfect and the cost of living seemed very reasonable. I really liked it and thought that's where we should go."
The couple also liked the fact that there was an international airport less than an hour away in Mexico's second-largest city, Guadalajara, and felt comfortable knowing that a large group of retired Americans and Canadians had already staked their claim in the area.
So in September of 2012, Pat and Russ decided to make one more move…to the small village of Ajijic. "It's been wonderful," Pat exclaims.
They joined some 15,000 other expats who now live on the shore of Mexico's largest inland body of water, Lake Chapala. Situated at an elevation of about 5,000 feet in the Sierra Madre Mountains, the twin communities of Chapala and Ajijic, only a few miles apart, host the large numbers of expats who have been coming to the area for over 40 years.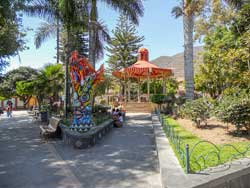 And it's not hard to see why. The region boasts the second-best climate in the world with daily temperatures between 75 F and 78 F, no major humidity, and bright blue skies and sunshine are the norm. The moderate rain, when it happens, falls usually at night.
"Ajijic has absolutely everything we need," says Russ. "The weather really is perfect and if we can't find what we need here or up the road in Chapala, it's less than an hour to Guadalajara."
Although the village itself is small, it is quite picturesque with narrow cobblestone streets and colorful storefronts. Look in one direction and you can see houses, all with spectacular panoramas, climbing up the mountainside. Look in the other direction and you'll be treated to a spectacular lake view.
Besides the perfect weather, Pat and Russ appreciate their growing network of expat friends, one of whom suggested that Pat see a local doctor about her hip problems.
"After I saw a local doctor, he agreed that I needed both hips replaced and scheduled the first surgery in Guadalajara a few days later. I had both hips replaced for about one third the cost I was quoted in California. And the doctor even assisted with special payment arrangements. The care and treatment I received was wonderful," she says.
Pat and Russ rent a beautiful home in the centrally located San Antonio neighborhood. For $550 a month they rent a spacious, two-bedroom, two-bathroom home with pretty Mexican tile work in both bathrooms. There's also a large outdoor patio and garden area bursting with plant life. They say they can easily live on their $2,100 combined Social Security income and have enough left over for dinners in nice restaurants and for savings.
"Russ likes to sing," says Pat, "and I like to dance. He takes his guitar with him when we go out to dinner and it's not unusual for an evening to end with a bunch of friends sitting around singing in one of the local restaurants. It's great fun and with my new hips, I can dance again.
"Living here has brought us closer together and made us stronger. It's a wonderful life. Ironically, the only thing I miss is Taco Bell," Pat chuckles.
Get Your Free Mexico Report Here:
Learn more about Mexico and other countries in our daily postcard e-letter. Simply enter your email address below and we'll send you a free special report – Why Millions of Americans Are Moving to Mexico.
This special guide covers real estate, retirement and more in Mexico and is yours free when you sign up for our postcards below.
Get Your Free Report Here