With more than 3 million visitors in 2017, Puerto Vallarta is one of Mexico's most popular beach destinations. The growth of this city on the Bay of Banderas on the Pacific coast has been significant in recent years as far as hotels, condos, resorts, restaurants, shops, and other tourist development, as has the population of residents who've come in search of sought-after tourism industry jobs.
The current population is approximately 250,000. And the town's expat population swells during winter, which is when snowbirds arrive. During Semana Santa (Easter week) and between Christmas and New Year's Mexicans from all over the country come in great numbers as well.
It's a far cry from the small fishing village that first drew Elizabeth Taylor and Richard Burton here for the classic film Night of the Iguana. But it's still a fun place to be with beautiful beaches, warm weather year-round, and great entertainment.
Crime in Puerto Vallarta
With any city of this size there is crime. But thankfully, Puerto Vallarta continues to be one of the safest and friendliest cities in Mexico for international visitors, national tourists, and expats alike. Part of that is the result of a heavy police and military presence. In short, the government knows that this area brings in a lot of tourist dollars and wants to keep it secure.
Evening strolls along the waterfront malecon, restaurant-hopping in Old Town, and late night bar hopping—no problem, although as you would in any city, you should keep aware of your surroundings and take care not to imbibe too much lest you get lost on the way home.
In general though, few tourists or expats are victims of crime, especially considering how many there are in town. And there is a low level of violent crime.
What you will find here is petty crime…crimes of opportunity. It's something you see in tourist spots all over the world.
Take care not to leave a purse on a table when you go to the bathroom. Don't leave valuables on your towel at the beach when you head out for a swim. Be sure to not leave valuables in your car either. And use the safe in your hotel room or get one if you live in a condo or home to store cash, jewelry, passports, and other important items.
Is it Safe to Walk Around Puerto Vallarta?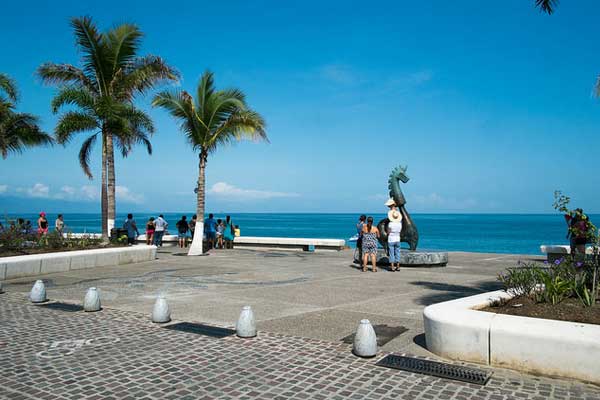 One thing I am always cautious of in Puerto Vallarta, and all over Mexico and Latin America, is paying attention while walking around. Sidewalks aren't always well-maintained, with holes or loose tiles. And construction zones aren't always well-marked. Plus, some drivers aren't as conscious of pedestrians as they should be. So I always take extra care when traveling on foot.
If there is some sort of accident, luckily Puerto Vallarta does have quality medical care at local clinics and hospitals, including emergency care.
Puerto Vallarta overall is a safe place, where you can enjoy fun in the sun, if you take a few simple precautions.
Related Articles
5 Places to Live in Mexico…and 3 to Avoid
Is It Safe to Travel in Mexico?