Gene and Patricia have been escaping harsh Canadian winters in Cancún for about 15 years now. They are among a large number of couples who have chosen the life of a "half-pat," preferring to spend four to six months a year in their second, much warmer, home here on the Caribbean, without committing entirely to the life of full-time expats. The Rousseaus usually leave their Canadian home in early January, enjoying about five months in Cancún before returning in late April or May, depending on the Canadian weather.
"The first time we came here, we really needed a break from the Canadian winter. I found a special deal on airfare to Cancún, and that's how we chose Cancún over all other warm locales," Patricia says.
"Cancún was much different then, much smaller and less developed. We only stayed a couple of weeks that first time, but as we got older and our circumstances changed, we returned every year and began to stay longer and longer," she says. "Now Cancún is our second home."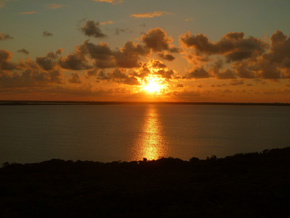 The modern vacation mecca has everything needed for a great life, according to the couple. They haven't felt the need to learn much Spanish, as many of the locals speak English in this tourism oriented area. They say they also don't need a car. A continuous stream of buses runs along all main routes, offering clean, convenient, and inexpensive access to all areas of the city. Major chain stores such as Costco, Walmart, and Sam's Club have outlets in Cancún, so shopping is easy and familiar. These days, there are also tons of major brand restaurant chains, along with some great local eateries.
"You can find everything from Applebee's to Ruth's Chris Steak Houses, Starbucks, McDonald's, Outback Steakhouses, Bubba Gump's, and Baskin Robbins,too," says Gene.
Cancún is situated on Mexico's Yucatán Peninsula, an area rich in Maya history, with many spectacular ancient ruins. There are thousands of cenotes (underground sinkholes) available for swimming and exploration, along with the world's second largest reef system just offshore. There is plenty to do, the couple says.
"We love the weather here," says Patricia. "Canada's winters can be a bit much to endure, so when we come here, all we really want to do is lie around the pool or sit in the sand, soaking up the sun and warmth."
"We have a nice group of friends here at the condo, many also from Canada. We all just want to soak in the sun," says Gene.
"Cancún definitely gives you a lot of bang for your buck," Gene says. "We live a great life here on the beach for about what it costs us to live in Canada each month. A couple can have a nice life here for about $2,000 a month, and for that, the Caribbean is included.
"It costs them about $350 each for roundtrip airfare from Canada, if they can find a deal—and they usually do. They have stayed at the same condo complex in Cancún for several years (renting every time) and don't expect to move anytime soon.
"We have it figured out, so it works just great for us," Patricia says. "We see our same friends every year here in Cancún and enjoy visiting around the pool every day. It's a great life."
Get Your Free Mexico Report Here:
Learn more about Mexico and other countries in our daily postcard e-letter. Simply enter your email address below and we'll send you a free special report - Why Millions of Americans Are Moving to Mexico.
This special guide covers real estate, retirement and more in Mexico and is yours free when you sign up for our postcards below.
Related Articles
Upcoming Conferences
Live Better, Spend Less, Retire Sooner
IL's Retire Overseas Bootcamp
October 21-23, 2022 in Atlanta, GA

In safe, warm, welcoming communities abroad, as little as $1,700 a month can bankroll a good life... this fall, our experts will show you where—and how.
Early Bird DISCOUNT—Save $100 When You Register by Sep. 29
Details Here IL's Retire Overseas Bootcamp
---
Registration Now Open for the Best of Europe Private Screening

In the Right Spots in Europe, You Can Retire in Style—in an Historic, Sun-Drenched Locale—for as Little as $2,300 a Month or Less—Especially Now With the Dollar and Euro at Parity for the First Time in Two Decades.
And We'll Show You How, October 1-2, During the Special All-Online Best of Europe Private Screening.
---
The Income Revolution Forum
What if You Had the Freedom to Enjoy the Good Life Anywhere in the World You Wanted to Be...and Get Paid While You're There?
We'll show you how—with hands-on guidance—you could beat inflation...secure your retirement...ditch your commute...and turn a skill you already have into a portable side income of $300, $600, even $3,000 or more a month.