Our family of five moved to the beachside town of Mazatlán, Mexico in October 2016. My husband, Vernon, and I had grown weary of the lack of work-life balance and the struggle to make ends meet that we were experiencing in the U.S. We needed a change.
Here, in our beautiful, colonial beachside town, we live more with less. We have shaved about $3,000 off our monthly living expenses, yet we still live very well. For about $450 we rent a three-bedroom, two-and-a-half-bathroom home with a patio, two balconies, car park, and a casita (a small, free-standing, one room studio with a bathroom). Our area is very safe and our neighbors are friendly. The home is an eight-minute walk to the ocean and only five minutes from the city center. Our three kids attend private school for less than the cost of one kid in part-time daycare back in Chicago.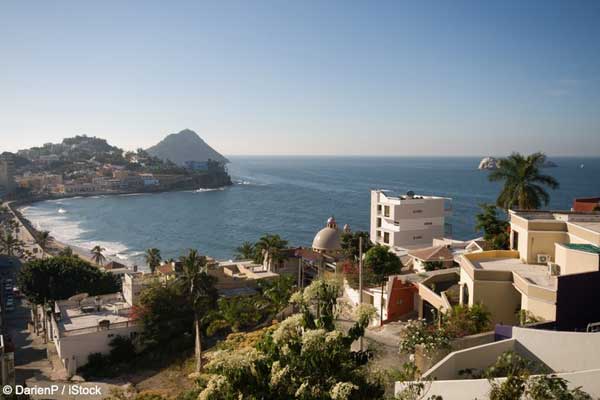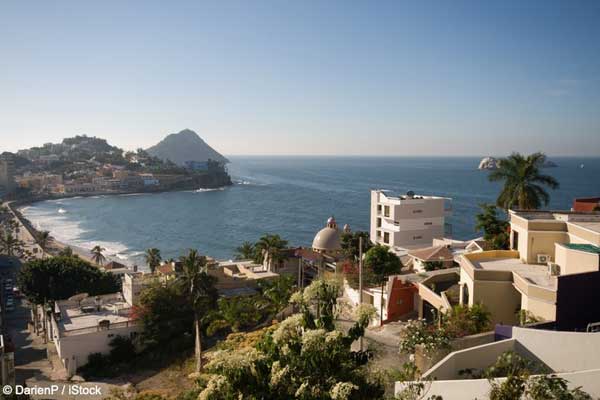 On an average day, after the kids are off to school, Vernon and I will either return home to work with our online clients or take a quick walk over to a nearby café for a mid-morning breakfast date. Our favorite café comes complete with a beautiful ocean view, friendly servers who know us by name, and fresh Mexican or American-style breakfast options for around $6 a person, including my favorite specialty soy latte. While we are far from retirement, because of our reduced cost of living, we feel quite free to live as we please and build our days around the things that make us happy.
My favorite thing to do is walk to the Centro Mercado. Here you can buy anything from fresh fruit to souvenirs, shoelaces to whole heads of pig. The vendors at our favorite produce stand are a family of sisters who actually live right down the street from us. Their warm smiles make their little stand feel like home. During mango season, we can purchase about two pounds of sweet, juicy, ready-to-eat mangoes for less than $1. The fruits and vegetables here are abundant and fresh and for about $5 to $10, I can leave with more than enough carrots, bananas, squash, onions, pineapple, and broccoli to last us the week. Quite a far-cry from our grocery bills in Chicago.
I like to call Mazatlán a "little big town." While there are many modern conveniences, including Walmart, Burger King, and AutoZone, it also has many historical elements that make it feel like a step back in time. The people here are very friendly and it is rare for us to go out and not see someone we know.
We chose Mazatlán because of its mild climate and proximity to the beach. On these two counts, Mazatlán has not failed to deliver. Fresh seafood comes in daily off the boats at Playa Norte. We spend our weekends playing in the sands at Stone Island, and a hike up the El Faro lighthouse, one of the tallest lighthouses in the Americas, is definitely worth it for the million-dollar view from the top.
Our life in Mazatlán, Mexico has been nothing short of amazing, and simply a wonderful adventure. Whether we're spending a beautiful night dancing to live music in the Plazuela Machado, or learning about and releasing baby sea turtles with the Acquario, our new home has given us many wonderful and memorable experiences.
Related Articles
Maps of Mexico: Best Beachside and Mountain Towns
Fun and Interesting Facts About Mexico
Own a Piece of Paradise on Mexico's Coasts
---
The Countdown Is On! Discount Ends June 15
Right Now Is the Best Time in History to Start Earning as a Freelancer
If you crave the freedom and flexibility of a side income that allows you to earn when you want and play when you feel like it...we have a solution for you.
"Remote work" is here to stay, and we can show you how to capitalize on this trend and turn what you already know how to do into a side income online that can help fund a retirement that looks the way you want it to. Can you really afford to miss this?
Online Portable Income Masterclass
June 26-27, 2021
---