My husband and I had no intention of retiring to Mexico when we came to Lake Chapala for a visit nearly three years ago. Our original plan was to spend six months traveling the U.S. in our travel trailer and six months outside the country, in an exotic location. But that changed when we came to Chapala.
Lake Chapala is paradise for retirees like us, who want to be active and be involved in the community. The area has a large expat population, so we were able to find many options for Spanish language classes, local tour groups, and social organizations. We felt "plugged in" right away. By the time we had been here for three months, we had joined a church, enrolled in Spanish classes, and found volunteer opportunities.
It was then that we knew this was the place for us. We were in love with Lake Chapala and the lifestyle it offered us. We went back to the U.S. for just long enough to sell our travel trailer and put our house on the market.
We rent a house in a residential area, close to the main road that runs between the small villages on the north shore of Lake Chapala. The house is built around a pleasant courtyard with a huge avocado tree that shades the orange, banana, and lemon trees. From the rooftop terrace we can see the mountains and the lake. Our rent is $900 per month, all utilities included.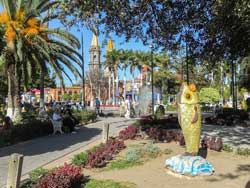 Recently, we sat down to figure out what it costs to live, what is for us, the perfect life in Mexico. With the cost of insurance, food, eating out twice per week, maid service, Spanish lessons, and occasional trips to the nearby city of Guadalajara (just 40 minutes away), we discovered we live on about $1,700 per month. We have friends who live on much less, so we feel rather extravagant.
We don't have a car as the local bus service is excellent and it's easy to get around. We can go anywhere along the lake for 40 cents. An express bus runs every hour to downtown Guadalajara and costs less than $3 and luxury bus service is available to any place in the country.
We are less than an hour from the cultural and historic center of Guadalajara so we can attend professional baseball games, watch the annual mariachi festival, see high-quality live theater, and shop in local markets or modern shopping malls. We can travel to the Pacific coast in less than four hours and in three hours, we can be at the base of Mexico's most active volcano, Volcan de Fuego. One morning, we saw smoke rising from behind the mountains on the south side of the lake. We decided to follow the smoke to see where it originated. What we found was the pueblo mágico (magic village) of Comala, the site of two ancient ruins, coffee plantations, and, a museum housed in a hacienda, and of course, the volcano.
All along the plaza in Comala are small cafés called botaneros. Order a drink and the tapas style dishes start coming, one after another, from the kitchen. The mariachis play at your table while you eat and when you cannot take another bite, the bill arrives, charging only for the drinks…the food is on the house.
We had no intention of staying at Lake Chapala when we first arrived. Now we cannot imagine ever leaving.
Get Your Free Mexico Report Here
Learn more about Mexico and other countries in our daily postcard e-letter. Simply enter your email address below and we'll send you a Free Special Report – Why Millions of Americans Are Moving to Mexico.
This special guide covers real estate, retirement and more in Mexico and is yours free when you sign up for our postcards below.

Get Your Free Report Here