When my husband, Mike, and I celebrated New Year's Day 2008 and our 7th wedding anniversary in Puerto Vallarta, Mexico, we were feeling good about where we were in our world. As with so many other people, that came to a crashing halt quickly—on February 1, 2008, we had to close our real estate business.
We sucked in our belts and put ourselves on an austerity program. Doing so, we managed to scrape by on a monthly basis…but we never seemed to get ahead of the debt we carried from our business. So in December, 2011, we finally sat down and looked at our options for moving forward.
We saw that we had a couple of choices: We could stay put and—at ages 59 and 62—keep trying, knowing that we didn't have the energy nor savings to last us through old age. Or, based on all of our research, we could sell everything we owned in the U.S., become debt free, and move to another country where we could live well on our Social Security income while salvaging what savings we had left.
It was a no-brainer: The whole world was at our fingertips. We managed to hone it down to a few essential criteria:
• Mike's wanted to live in a Spanish-speaking country.
• I wanted to be somewhere where it was warm year round, but not be an island.
• We both wanted good infrastructure; a good healthcare system at a much lower cost; a stable government; a walkable location with a good public transportation system where we could live without a car; and, of course, a lower cost of living.
Then, we set a goal monthly budget of $1,800 a month (including rent but excluding health insurance). This budget was our full income at the time without having to dip into our savings.
We used some of our savings to travel between countries—"country shopping" as we called it—as an investment into our future. It was a small price to pay, we felt, for having no regrets later once our choice had been made.
Initially, we chose to explore Panama, Costa Rica, Ecuador, Uruguay, and Spain. Each of these countries would allow us to stay for three months on a tourist visa. In each, we decided, we would live one month in three different towns, so we could compare different types of climates and housing, whether in the mountains, inland, or on the beach.
Panama was our first country and we chose Boquete, Pedasi, and the Gorgona/Coronado area. While in Panama, we decided to take Uruguay off the list. It has four seasons, which didn't appeal to us.
From Panama we went to Costa Rica and stayed in the Lake Arenal region, the Central Valley town Grecia, and Tamarindo. While in Tamarindo, a growing beach town on the Pacific Coast, we decided without a doubt that we needed a truly warm tropical climate, beaches, and sunsets.
We started to think differently about where we would end up, too. The more we knew we wanted a beach lifestyle, the more we began comparing every beach location to Puerto Vallarta, Mexico, where we had vacationed for years.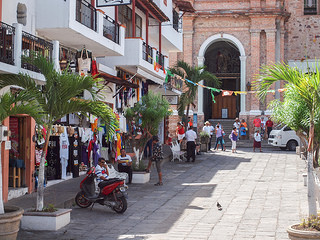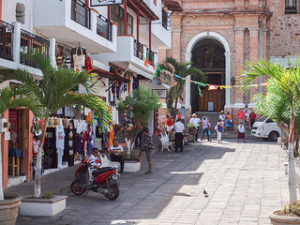 The funny thing is, we hadn't put Puerto Vallarta on our initial list because we thought it would be too expensive. In reality, we hadn't done our homework like we had on the other locations.
After further investigation, we realized how misinformed we were. We added Puerto Vallarta, Mexico back onto our list.
We added Nicaragua, too, after taking a day trip there while in Costa Rica.
We continued to Ecuador visiting Salinas, Bahia de Caraquez, and traveling for a month in the highland cities. Then we headed back to Granada and San Juan del Sur, Nicaragua.
But the die had been cast. On December 15, 2013 we landed in Puerto Vallarta, Mexico; one month later declared ourselves "home."
Why? Because PV checks off every one of our wish list boxes and offers more besides. The culture and architecture are exceptional and we're surrounded by beauty: from the beaches on the Pacific Ocean Bay to mountains covered by lush green jungles. I love watching the stunning sunsets over the Bay of Banderas, people watching on the malecon or beach, or enjoying a water-taxi ride in the Bay.
And the slower pace of life is intoxicating: locals, expats, and tourists are all happy here. Finally, the excellent infrastructure makes life comfortable and easy.
A year and a half later, we're still certain, after all our research, that it is the right spot for us.
Get Your FREE Report on the World's Top Retirement Havens
Learn more about other great retirement destinations from around the world in IL's free daily postcard e-letter.
Simply enter your e-mail below to subscribe to International Living's free daily e-letter and we'll also send you a free report on the The World's Top 10 Retirement Havens
Get Your Free Report Here