Sinking my toes into the warm white sand, I lean back in a plastic chair warped by the sun to give it a reclining effect. Homemade tortilla chips heaped on the plate in front of me are perfect for dipping into the ceviche of fresh fish caught just off the coast. And the $2 chelada, a lager beer on the rocks—Pacífico is my favorite—with a liberal dose of lime juice and salt on the rim, hits the spot.
I've had ceviche all over Latin America. But here on Mexico's Riviera Maya, in a ramshackle beachfront restaurant set on a calm cove of turquoise-blue water, it might be the best I've ever had, at only $8 for a plate big enough for three. Must have been the bit of spicy pepper thrown in. And that unexpected spicy kick, I think, is a good way to look at the region, which runs from Cancún to Tulúm on the Yucatán Peninsula's east coast.
It has something extra, something special that makes people fall in love and leave their old lives behind. There's the dramatic scenery of white-sand beaches, the never-ending blue Caribbean, thick jungle, cenotes (freshwater swimming holes created by sinkholes in the limestone bedrock), and deep reverence for Maya culture and history (not surprising, since that's the heritage of many locals). And you can enjoy it all every month of the year, thanks to year-round warm weather. And at a low cost…
With a long history of expat life, First-World services and amenities, and a laid-back Caribbean lifestyle, the Riviera Maya is an ideal place to live.
Get Your Free Mexico Report Here:
Learn more about Mexico and other countries in our daily postcard e-letter. Simply enter your email address below and we'll send you a free special report – Why Millions of Americans Are Moving to Mexico.
This special guide covers real estate, retirement and more in Mexico and is yours free when you sign up for our postcards below.

Get Your Free Report Here
You'll enjoy some of Mexico's finest quality of living for a fraction of what you'd pay in the U.S. or Canada. All told, a couple can comfortably call this paradise home for around $2,500 to $3,000 a month. Simple meals in local restaurants will run you $5 or less. One of my favorites, fish tacos, can be had for $1.50 each in the no-frills beach restaurants. And in stores, you can expect to pay prices similar to those in the U.S. for imported foods, but fresh produce is a bargain…try a pound of tomatoes for 65 cents or two pounds of fresh fruit like mango for $1. There are big savings on property taxes and healthcare, too. And where else can you enjoy life in a two-bedroom condo a stone's-throw from the beach, in a premier beach town, for under $700 a month rent?
Like many from the U.S. and Canada, my first visit to the Riviera Maya was to a big resort in Cancún. I could have been anywhere with a nice beach and a pool bar. But get out of the all-inclusives and you find a cosmopolitan and lively region with a lot to offer—there's something for every type of person and lifestyle.
Things are done on a grand scale in much of the region. Cancún has its over-the-top hotel zone, with mega resorts. South, in Playa del Carmen, you have a bustling and seemingly never-ending downtown entertainment district. But you also have more manageable places, like the bohemian haven of Tulúm, the low-key beach community of Soliman Bay, just to the north, and the traditional fishing village Puerto Morelos, closer to Cancún. I love the contrast… And it's all close: just 90 minutes or so between Tulúm and Cancún on a modern four-lane highway—the arrow-straight Highway 307.
Starting with Cancún in the 1970s, the Riviera Maya has seen much government investment in a bid to develop tourism. As a result, the region's infrastructure and services are top-notch. The feel is First World, with the twist of a vibrant, distinctly Mexican culture. There are good roads. Good medical care can be found at world-class facilities. Big-box stores like Walmart and Home Depot abound, making it easy to find the little comforts of home. Tourism money has made the region prosperous. And fortunately, that translates to a comfortable and pleasant place to live for expats—and an easy transition, too.
Playa del Carmen: Casual Elegance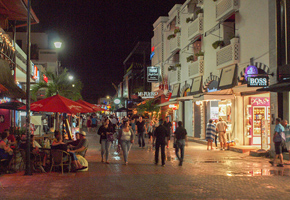 It's early evening, and I'm looking for a place to have a nice dinner. I'm strolling down La Quinta Avenida (Fifth Avenue), the heart of life in Playa del Carmen. I'm spoiled for choice. Everything from traditional Yucatecan fare to Argentinian steak houses to sleek sushi joints to gourmet Italian can be found here. And while I'm mulling over my options, I spot somewhere to go for after-dinner fun—one of the open-air bars on the avenue is hosting live music.
Quinta Avenida is Playa, as locals call the town, in a nutshell: cosmopolitan, chic yet casual, and lively from early morning to late at night, with expats and visitors from the U.S., Canada, Europe, other parts of Mexico, and all of Latin America.
What used to be a tiny town, a ferry stop for tourists heading to Cozumel, has boomed. Long-time residents say Playa is unrecognizable from what it was 10, even five, years ago. The talk around town is that it's the fastest-growing city in Mexico.
But the town's guiding spirit of fun in the sun remains strong.
That's what attracted Scottie and Jim Watson, 72 and 70, respectively, who have lived in Playa for six years. The couple met and married in town, and they live in a modern condo building just off the beach and a quick walk to Quinta Avenida. The pool is right out their sliding glass doors.
"Everything is within walking distance, which keeps us healthy," says Jim.
"It's easy living; it's pleasant," says Scottie, from Minneapolis.
"For me, weather was in fourth place as far as why I wanted to live in Playa. I worked in travel in places like this. So I was also very conscious of airfares. There are cheap and plentiful flights into Cancún. I want people to come and see me. It was about having an adventure in my life. When I moved down, I didn't know a single person. I was widowed. I sold my house and didn't have a back-up plan, which horrified people."
After a 35-year career working with the casinos in Las Vegas, Jim first retired to Ambergris Caye, in nearby Belize. But after meeting someone at the Cancún airport who recommended Playa del Carmen, he switched locations. Playa fit his lifestyle better; the restaurant and social scene was a major attraction.
"All of our friends are very active. We walk the beach, swim in the ocean, swim laps in the pool. We have a catamaran, too," says Jim. "Everyone is well-dosed with vitamin D."
The couple is also involved in a dinner club, a book club, play bridge, and go to minor league baseball games in Cancún. She does watercolors and sketches. And he works at a golf tournament every year.
"Our new thing is to get off shore and use a noodle to float south about an hour and then walk back," says Scottie. "And snorkeling—we have one of the best reefs right off our beach."
Scottie notes they have warm weather year-round, with average highs in the high 80s during summer and lower 80s during winter, tempered by sea breezes.
They enjoy some luxuries, too.
"We indulge ourselves. We have a cleaning lady, which I wouldn't have in the States. And foods that are good for you, like fruits and vegetables, are cheap. We love to cook and have people over. We like to grill," says Scottie.
"It's less expensive to exist down here," says Jim, who says they pay $200 a year in tax on their condo. "Instead of paying $6,000 to $8,000 in property taxes, you travel."
Real estate deals can be found. The farther from the beach you go—but still a reasonable walk or quick bike ride—the better the deals you can find. Head farther west, into more traditional Mexican neighborhoods, and you pay even less. A two-bedroom condo next to the beach, is listed at $199,000. Several blocks inland from the water—but still a pleasant walk—is a two-bedroom unit for $109,000, available on Buyplaya.com.
Head even farther west to the "suburban" part of Playa, and you can have a two-bedroom townhouse for $95,000. And if you're looking for real luxury, you can find plenty of it here, too. A one-bedroom condo in a building right on the beach, with resort amenities like daily maid service, is available for $399,000—and it comes furnished. See: Playa del Carmen Real Estate.
Rob and Michele Kinnon, with Buy Playa, have been involved in real estate for more than 10 years in Playa. You can contact them at Buyplaya.com.
Cancún: The Resort Town
It's impossible to talk about the Riviera Maya without mentioning Cancún. It's the place that started it all. What was once a little sandy island became a focal point for tourism and exploded into a huge, world-class resort. It's the region's economic driver and has brought prosperity up and down the coast.
The hotel zone, on a long peninsula, is one all-inclusive resort after another, with shopping malls in between. On the mainland, the "real" city of Cancún has also taken off, with a population of half a million. It's the largest city in Quintana Roo, the state along the Caribbean coast. Government offices are here—it's where you go to get your car registered, for example. Many expats make regular shopping trips here, too.
Expats do live here, in the centro (there are some nice neighborhoods there), as well as in condos in the hotel zone. But most foreign residents in the region come here for shopping, government business, and medical care. The Joint Commission International-accredited Hospital Galenia is in town, for instance. But there are hospitals, clinics, and doctor's offices up and down the coast. Healthcare in local clinics costs about half or less of what you'd pay in the U.S. A doctor's visit, for example, will run you about $40. And prescription drugs made in Mexico are about half the price, but the same quality, as U.S. medications.
In addition, Cancún's international airport has frequent—and cheap—direct flights to many U.S. and Canadian cities.
A beach condo in the hotel zone will, of course, cost more than something in the centro. But there are still some great deals. A studio condo, a penthouse with ocean views from a large deck, is available for $129,000 at Viviun.com. Another penthouse condo, two bedrooms, with views of the lagoon between the peninsula and the mainland, is $210,000 on Topmexicorealestate.com. Head to the mainland and you get a lot for your money. Meanwhile, on C21playa.com a three-bedroom townhome, in a gated community near the shopping district, is $114,000.
Tulúm: Bohemian Jet Set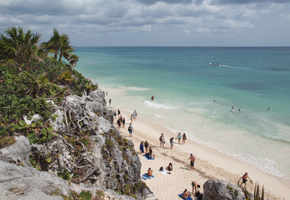 In Tulúm, the place to be is by the seaside. The Maya knew this to be true; the ruins of their cliff-top seaside city are just north of modern-day Tulúm. In this area, the white-sand beaches are complemented by low-scale development; it's worlds away from the sometimes-overwhelming beachfront of Cancún and Playa del Carmen. Tulúm used to be a favorite stop on the hippie backpacker trail. But these days it's the province of more well-heeled and fashionably-dressed visitors. They flock to the boutique hotels on the beach and the sophisticated restaurant scene.
There's a feeling of possibility and potential in Tulúm. And that's reflected in the real estate scene.
The old town center, inland, is where business is done: grocery shopping (there are several large, well-stocked supermarkets), hardware stores, gas stations, and more. There are also cafés and restaurants. Stop by Ki'Bok for great bagels and gourmet coffee—it's run by a U.S. family and it's an expat hangout.
Most people live around town or north of it. But the beach side—about two miles from "downtown"—is where they play. A narrow road, much of it shaded by overhanging trees, winds its way for miles by the water. At the end is an entrance to the Sian Ka'an Biosphere Reserve, marking the southern end of development.
On either side of the road are restaurants, cafés, and boutiques selling swimwear and funky apparel—this is the bohemian jet set, after all. Everything is open-air; hardwood and thatch roofs are the preferred architecture style. Try Mezzanine for Thai cuisine (it's the talk of the town) and Mateo's for the best fish tacos (about $10 for three, plus a beer) on the beach (be sure to drizzle on that chipotle hot sauce). Beach clubs line the sand, offering food, drink, and an ocean view. If you're dining out, keep in mind that many eateries and other businesses here don't take credit cards, and the ATMs in this area charge exorbitant fees—up to $20!—and often don't work. So bring cash with you.
In Tulúm itself, a two-bedroom town home a few blocks from downtown will run you $97,000. In the same area, a three-bedroom house is listed at $192,000 on Remaxintulum.com.
Interest in Tulúm has grown in recent years, as development on the Riviera Maya has moved farther and farther south. With the biosphere's presence blocking development south of town, the push is to the north. A large resort complex, the Gran Bahía Príncipe, just north of town, is the setting for two condo projects, Tao and A-nah, which are attracting lots of interest. The cool thing is you can avail of the resort amenities, like the spa and golf course, for resident discounts and be surrounded by its immaculately kept grounds.
Two-bedroom condos in A-nah start at $203,000, while in Tao they run $219,000 and up.
Puerto Morelos: Old Mexico With an Expat Flair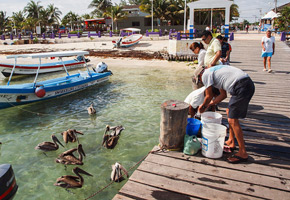 About 20 minutes south of Cancún is a town that's as close to traditional Mexico as you'll find on this coast. As one expat told me, "Our fiestas aren't for tourists, and they usually don't start on time." Once a center for harvesting and shipment of chicle, a resin used in chewing gum, this fishing village is quiet and calm. It's home to a core group of permanent expats and is a part-time haven for many snowbirds. There are some resorts and hotels—but a fraction of what you have just up the road. It has a small-town feel.
A charming, sunbaked town square is a focal point for local celebrations, with shops, restaurants, and cafés lining three sides. To the east is the small malecón, or boardwalk, with plenty of benches in the shade for enjoying views of fishing boats anchored just off shore. Stroll down the jetty and you find fishermen hauling in the day's catch. You can buy grouper, snapper, or whatever else was caught that day at the fishing cooperative just across the street. A new, modern grocery store opened near the highway just outside town, a cause for celebration for expats who previously had to travel to Cancún or Playa del Carmen for groceries.
Dinners out are huge for expats in Puerto Morelos. And one of the big hangouts, thanks to frequent live music nights, is La Sirena. Beach bars are places to meet with friends and make new ones.
Sharon Webb, 50, has lived in Puerto Morelos for five years. She and her husband, Les Webb, 71, both Canadian, run a printing business in Cancún (where they originally lived when they first moved to Mexico). But Sharon's focus these days is her clothing boutique on Puerto Morelos's main square, Sofia's Fashions. She has colorful dresses, skirts, and tops with tropical motifs and patterns.
"I design 80% of what's in the store. It's something I've always wanted to do. I'm having a blast," says Sharon.
"We're still pretty driven with our work. But at night we go out around the square to the restaurants. There are beach bars and music at night.
"I love Puerto Morelos. The views are amazing. But you have to have a sense of humor and patience, because nothing happens fast," says Sharon, who explains she and her husband have become permanent residents of Mexico.
The couple rents a two-bedroom home one street off the beach for $570 a month. Sharon's store is $400 a month.
"We can live here on much less than in Canada. If you have a pension or Social Security, you could live well. People are friendly and there are good people in this town. You can't help but wake up with a smile in this sunshine."
Real estate in Puerto Morelos is similarly priced to other spots on the Riviera Maya. A two-bedroom condo a block from the beach, with a community pool, is for sale for $235,000. Contact Amber Pierce-Schulz at Mayan Riviera Properties for details—they specialize in Puerto Morelos. A one-bedroom condo, right on the beach, is listed at $129,000. A two-bedroom unit in a small luxury condo complex is available for $275,000. Check Coastalhomesrivieramaya.com for details.
An Easy Transition to a New Life on the Riviera Maya
A big part of the Riviera Maya's appeal as a place to settle is that it feels familiar. It's a well-established destination, with a large population of expats who have cleared a path for those coming later. They've figured things out, so to speak, so you don't have to—at least not as much. It's a welcoming community, too, where you can make friends easily.
With a long history of expat life, First-World services and amenities, and a laid-back Caribbean lifestyle, the Riviera Maya is an ideal place to live.
Get Your Free Mexico Report Here:
Learn more about Mexico and other countries in our daily postcard e-letter. Simply enter your email address below and we'll send you a free special report – Why Millions of Americans Are Moving to Mexico.
This special guide covers real estate, retirement and more in Mexico and is yours free when you sign up for our postcards below.

Get Your Free Report Here