A few years ago, my wife Diane and I packed our lives into six suitcases, Diane tucked our beloved Chihuahua, Carmine, under her arm and we set off to build a new life in a small coastal village on Ecuador's northern coast, a country we had never visited.
To say we had a fair amount of fear and anxiety would be putting it lightly. As we were riding from Quito's airport high in the Andes mountains to our destination on Ecuador's northern coast about eight hours away, all the familiar fears we'd had before we left the States once again bubbled to the surface.
Will my fixed income really be enough to live a comfortable lifestyle? Could we learn to speak Spanish well enough to get by? Will the healthcare in our target community live up to the claims? Will we be safe from crime? Will we be able to make friends? Will we be able to adjust to an entirely different culture?
These were all things that Diane and I had discussed and researched for many months before we boarded the airplane.
A hard nudge by the global economic recession, beginning in 2008, provided the impetus we needed to find a new path. Things in the U.S. were not going well and economic recovery—both nationally and in our own family economy—would take years. I had lost my job and we lost our home, forcing us to dip into our modest savings for survival.
Despite our combined herculean efforts, we were barely hanging on and our vision of a comfortable retirement had all but disappeared. We needed a solution that, for us, would not be found inside the borders of the United States.
Picking up and moving to another continent is a big deal, and we were under no illusions otherwise. But after all our research and running through all the possibilities, relocating abroad was our very best option. We realized we could not possibly find all the answers—and maybe not even all the questions—before getting on the ground in Ecuador for ourselves.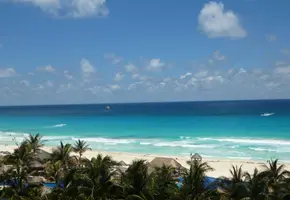 This move was going to be the perfect example of jumping off a bridge and learning to fly on the way down. The one thing we possessed that allowed us to move forward, despite our concerns, was the sincere belief that together, we would find the solutions to every new challenge we faced. We were open to the adventure and, most importantly, we believed in us.
We had each faced tough times before, together and individually, and agreed that we would not allow fear to be the thief that would steal the new life we could have.
After two wonderful years in Ecuador, it was time to move on. The small village we called home did, indeed, have a hospital nearby as our research had indicated. However, as a heart patient, I learned that emergency medical care was not up to the lifesaving standards necessary for our peace of mind and the lengthy time and expense to return to the U.S. was another factor.
After a bit more research and with absolutely no fear, we targeted Cancun on Mexico's Caribbean coast for our next chapter. Cancun had numerous large hospitals and was only about an hour-and-a-half back to Florida.
As I watched the sunrise over the Caribbean this morning, from our bedroom in a beautiful, multi-level beachfront condo, I realized that we are now approaching the completion of our second year here on the spectacular Riviera Maya.
It turns out that we had nothing at all to fear. Our Spanish is passable and improving. We have enough money to live with zero worries, our safety has never been compromised, and we've easily made friends. In fact, our life, now, is a cliché with afternoon swims in warm Caribbean waters, morning walks on the sugar-sand beach and postcard sunsets over the lagoon while sipping tall tropical drinks on our large rooftop terrace.
It would be easy to hate us until you realize that this, too, could be your life. Just remember that you mustn't let fear steal the life you could have.
Get Your Free Mexico Report Here:
Learn more about Mexico and other countries in our daily postcard e-letter. Simply enter your email address below and we'll send you a free special report – Why Millions of Americans Are Moving to Mexico.
This special guide covers real estate, retirement and more in Mexico and is yours free when you sign up for our postcards below.

Get Your Free Report Here