Frank and Dale Reams took their first vacation to the quaint fishing village of Puerto Morelos on Mexico's Caribbean coast in 1998 and knew, instantly, that they belonged there.
"We fell in love with this area and after several more vacations, we decided that Puerto Morelos would become our retirement home when the time came," says Frank.
That time came in early 2003. Frank and Dale packed what would fit into and on top of their Ford Explorer and drove from their home in North Carolina to Puerto Morelos, not knowing where they would spend the first night when they arrived or where they would live.
"Our life here was wonderful right from the beginning. We met many people and made friends and finding a place to live turned out not to be a problem at all," Frank says.
Puerto Morelos is a picturesque, small town with a village-like feel, situated a few miles off the coastal highway, about 30 miles south of Cancun.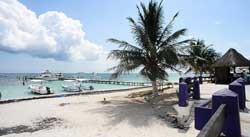 Divers, snorkelers, boaters, and fishermen can easily enjoy a day on the warm Caribbean waters and return in time to eat a fresh, seafood dinner at one of the many surfside restaurants. Most of them will prepare your fresh catch for a small price while you enjoy a cool drink and contemplate your good fortune. In fact, it is perfectly acceptable to do nothing but grab a seat in the sand and gaze past the old leaning lighthouse to the small, colorful fishing boats anchored just beyond, wondering why everyone doesn't live this way.
Sadly, Frank's wife became ill and passed away in the spring of 2005. "I am so happy that we were able to enjoy our dream together for as long as we could. After Dale passed, I knew that I'd be staying. My life is here now."
"I rent a nice three-bedroom, two-bathroom house. My rent is about $300 per month. I've lived there for four years and it's great. I can catch a colectivo van (a shared transport service that runs a regular route) right on the corner and it takes me anywhere in town I want to go for about 3 cents."
Frank spends a lot of his time assisting the locals in the community through various service projects as well as promoting the overall business and tourism culture that is the primary means of support for the locals and a number of expats.
"When folks ask me what I do all day, I have to chuckle," he says. "I maintain an active, informational website about Puerto Morelos. I've organized the annual Chili Cook-Off and the annual Chicken Wing Competition over the 4th of July weekend. I'm the village Santa at Christmas and I supervise the toy drive and arrange a parade with my elves. I am also the administrator of a small school that teaches English to the local kids. I organize the annual Easter egg hunt as well as the annual talent contest for kids. Oh, and I also organize Halloween events to include a parade of costumed characters, and it looks like we'll be doing a meatball contest in February."
Frank says that the proceeds from all these events are used to support a number of local charities.
"For a guy that's 67, I'm in pretty good health so I don't see doctors much. But there are several good doctors here in town and a couple of clinics for routine things if I need one. Anything serious and folks just make the quick trip up the highway to Cancun. There are six or seven hospitals there. I bought a medical insurance policy and I pay about $400 for the year but I hardly use it."
With all his projects and a large number of friends, Frank is happy in Puerto Morelos. "I can't imagine anywhere else I'd rather be."
Get Your Free Mexico Report Here:
Learn more about Mexico and other countries in our daily postcard e-letter. Simply enter your email address below and we'll send you a free special report – Why Millions of Americans Are Moving to Mexico.
This special guide covers real estate, retirement and more in Mexico and is yours free when you sign up for our postcards below.

Get Your Free Report Here