I'm on a terrace, shaded from the bright midday sun by an overhanging palm frond roof. On the plate in front of me: three fish tacos—tortillas filled with fried filets and a coleslaw seasoned with lime and chili. From my perch I can see the tidy town square below where a few locals have claimed patches of shade to stop and chat. School kids in uniform scurry across the plaza in groups. And looking the other way I can just glimpse a sliver of the blue Caribbean between buildings. The sea breeze is light…but enough to cut the tropical heat.
I'm in Puerto Morelos, on Mexico's Riviera Maya, just 30 minutes south of the famed beach resort destination of Cancun.
Before visiting, I had read it was a quiet fishing village. It's not quite that…but very close. There is some tourism, a few resorts and small hotels and there's been residential development, too. A good number of foreign residents, Americans and many Canadians in particular, have chosen to settle here. There are also many snowbirds who flee the North American winter each year. Several restaurants cater to visitors and expats, with live music for entertainment and lively beach bars for meeting new friends.
But Puerto Morelos is still tiny compared to Cancun to the north or Playa del Carmen 30 minutes to the south. And it still has the feel of Mexico, or the closest you can get to it on the Riviera Maya, one of the most-visited and "touristy" spots in the country.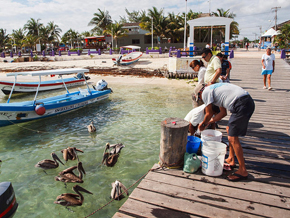 It's a refuge…an escape from stress, from crowds. I was there in high season and didn't have any trouble finding a spot to park or a seat in the restaurant.
Condo buildings line the beach, most within walking distance of the town center. A one-bedroom apartment with a view of the water rents for $850 a month, furnished. Go inland a bit (but still a quick drive to town and the beach) and you can get a three-bedroom home, furnished, for $1,000 a month. And for $149,900, you can have a one-bedroom condo in a community on the water and ocean views from your balcony. For a two-bedroom, expect to pay $250,000 and up.
The vibe is low-key; the pace is slow. The businesses are small and locally-owned, with many lining the town square with vibrantly colored fabrics swaying in the wind, glimpses of shelves full of books seen through the open door of a bookshop, and locals enjoying a cup at a sidewalk cafe, watching the world go by. Fishermen still go out early every day, and you can buy their catch at the cooperative in the building just off the main plaza.
That morning, as I was walking the short malecón (seaside promenade) near the center of town, I had spied a commotion on the pier. A crowd of men about halfway out…and pelicans bobbing the blue Pacific below watching even more intently. As I got closer, I saw a local fisherman crouched down fileting the day's catch—tossing the leftovers to the eager birds. Perhaps one of those filets had made it into my fish tacos…the co-op supplies the local restaurants and residents. At their small market you can get grouper for $2.50 a pound. Boquinete, a local variety, is $2.10.
Although local shops and a newish grocery store near the highway a mile or so inland from town means you can get all you need for daily living in Puerto Morelos, there is easy access to the nearby larger towns of Cancun (also the site of Hospital Galenia, one of the best in the region) as well as the entertainment, dining, and nightlife hub of Playa del Carmen—if you want a taste of the "big city." The highway is well maintained and well signed and makes getting around the region a snap.
Get Your Free Mexico Report Here:
Learn more about Mexico and other countries in our daily postcard e-letter. Simply enter your email address below and we'll send you a free special report – Why Millions of Americans Are Moving to Mexico.
This special guide covers real estate, retirement and more in Mexico and is yours free when you sign up for our postcards below.

Get Your Free Report Here