I've never had a taxi driver refuse a fare before. But there we were, just arrived from Mexico City on the first-class bus (WiFi, reclining seats, air conditioning, etc. for $22) in the charming colonial town of San Miguel de Allende, in Mexico's Colonial Highlands. And after telling the driver the address of the apartment my wife and I had rented, he shrugged his shoulders and said the roads were closed.
We soon found out why as we walked towards the town center. The streets were thronged with hundreds of locals dressed in indigenous costume: lots of feathers, animal prints, painted faces, neon headdresses…the scent of purifying copal incense was heavy in the air.
They were dancing to the beat of a pounding drum accompanied by shakers and bells attached to ankles and wrists, slowly snaking their way through the narrow streets lined with crowds on either side. As each group passed they were met with polite applause from the crowd lining the streets.
After dodging the parade route we managed to reach our apartment…only to find it would pass right by our front door. We got to enjoy the parade again—in a more relaxed mode this time.
The celebration was La Alborada, which celebrates the Archangel Michael, the town's namesake and patron saint. The parade went from late afternoon to early evening. Then there were fireworks and an eight-piece brass band playing in the bandstand in the middle of the main square, providing the soundtrack well into the night for dancing couples of all ages.
It was the perfect introduction to San Miguel de Allende, a small town infused with history about four hours from Mexico City. This place has been an expat haven since it was a bohemian haunt in the 1950s.
You never know what you might find in the maze of narrow cobblestone and flagstone streets that make up San Miguel's UNESCO World Heritage-designated centro historico. It's not a city built for cars (most had a few dents in them) and is best explored on foot or by taxi, which gives you the chance to appreciate the colonial buildings painted in rich burgundies, tans, and yellows…and what's inside.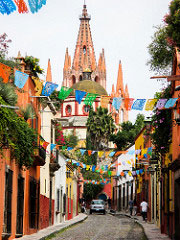 There is a pleasant lack of garish signage. Instead, you stroll past an open doorway and might peer in to see a high-end clothing boutique, cafe, artist studio and gallery, boutique hotel, or somebody's home. The facades are quite plain—often with bougainvillea cascading down the wall with flowers of pink, white, or orange…or all three. But catch a glimpse through a black iron gate or an open intricately carved door, and you see the interiors are charming, calm, and beautiful, with tinkling fountains and gardens of ferns, palms, and bright blooms.
And then the narrow streets open up into parks and plazas and church squares, including the famed Jardin Principal. It's the main plaza in front of La Parroquia, a red stone church with an intricately-carved bell tower that is the symbol of San Miguel.
The buildings are restored and well-maintained. It's all well-kept and clean. That goes for the whole city. Each morning, homeowners and business owners would be in front of their properties with a bucket of water and soap, scrubbing the flagstone sidewalk clean.
This is no tourist trap. It is a working Mexican town with people commuting to work in the morning, kids catching the bus to school, and businessmen in suits and ties chatting rapidly into cellphones as they rush to appointments. They mingle with visitors from around the world and a healthy population of expats drawn by the artsy atmosphere, colonial architecture, and traditional Mexican culture. Mariachis roam the central plaza in the evenings, playing for tourists (not just gringos, but also visitors from Mexico City and other parts of the country).
Hip restaurants at reasonable prices (under $30 for a couple with wine or beer) are on every block offering Spanish tapas, sushi, Thai, and, of course, plenty of Mexican favorites. The Mezcaleria offered up margaritas infused with ginger and mint and other quirky ingredients for $6—you'd pay double in a hip bar in the U.S. Our favorite meals were simple tacos al pastor (marinated pork) from a roadside stand for 10 pesos each—about 60 cents.
A quick glance at the local paper showed multiple events every day—and night—of the week. Screenings of documentaries, live music (I checked out a flamenco and Latin music show played on harp and guitar), dance lessons, art classes, volunteer work, yoga classes…there's no shortage of things to see and do. Many days we chose to simply enjoy a coffee in a courtyard cafe on a quiet side street.
Get Your Free Mexico Report Here:
Learn more about Mexico and other countries in our daily postcard e-letter. Simply enter your email address below and we'll send you a free special report – Why Millions of Americans Are Moving to Mexico.
This special guide covers real estate, retirement and more in Mexico and is yours free when you sign up for our postcards below.

Get Your Free Report Here