You never know what can happen when you move to another country, particularly one where the language is different to your own. And when you learn the language, it can help you to build relationships with the people in your new local community.
I often run into people I taught Spanish to 10 or 15 years ago and I always ask them how their Spanish is going. Mostly the response is the same: "My Spanish is horrible but I get along just fine. The Power Verbs take you a long way." (With Power Verbs, students learn to say "I need… I want… I am going to… I can… and combine them with 100 verbs. This gives them to skill to express their needs and want.)
The other day I heard something a little different. Margie is in her mid-60s and a retired school teacher from California. She came to our Spanish school a few years ago and took one course, Power Verbs. When I bumped into her recently I asked how her Spanish was going. She replied: "My Spanish is horrible but I speak fluent knitting."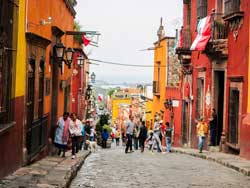 Curious, I asked her to explain.
Margie is enjoying retirement in San Miguel de Allende, Mexico. One day she was in front of her house knitting when two local neighborhood girls walked by. She was used to greeting them in passing but today was different. The girls, about 12 years old, walked over to Margie and watched her as she knitted.
Margie didn't know the word for knitting in Spanish so she said it in English and asked what it would be in Spanish. The girls told her (it's tejer = to knit) and she taught them the word knitting in English. The girls moved on.
A couple of days later the same girls passed the house once again and saw Margie. The girls wanted to see her knitting. Margie brought out her knitting and a couple of chairs and the girls looked on as Margie got to work with her needles. Margie saw that they wanted to learn to knit and the school teacher in her kicked in. She invited them to come back and she'd teach them to knit.
"I will never forget the excitement I felt getting ready for my first knitting class," Margie told me. "I got my materials together and when the girls arrived we sat down and went to work."
Margie says most of the lesson was show and tell but soon the girls were teaching her knitting words in Spanish. "I learned the word for knot, needle, and thread," she says. "And we went through all the colors. They learned the English words and I learned the Spanish ones."
Margie and the girls were both excited about their knitting/Spanish class and so they met again and this time the girls asked if they could invite their sisters. "The next class, there were five students," Margie says. "Each girl brought one of their sisters and even one of their brothers showed up."
Margie says as the lessons went on she was getting more comfortable with the Spanish terms and by using Power Verbs she learned in my class, she was able to tell the kids what they needed to do.
Over a year later, Margie's knitting class has eight regular students. Not only is she learning Spanish but she's also been "adopted" by the girls' families. "I'm invited to events with this family," she says. "This is something that I cherish and would never have imagined in my wildest dreams. My Spanish, even though improved, still needs a lot of work, but that said, I do speak fluent knitting."
Margie is not unique. Everyone can learn Spanish and as Margie's story shows, you never know where learning even just a few important words is going to take you. No matter how lousy you think your Spanish is, there is always an opportunity for new friends and new adventures.
Related Articles
Time to Get Serious About Spanish