"Are you nuts?"
This might be the first thing you hear when you tell friends and relatives that you're thinking of retiring abroad.
It doesn't happen nearly as often as it used to, now that Forbes and FOX News and The New York Times and just about every other major media outlet are featuring stories about people retiring overseas and where they're going.
Some are even putting out their own lists of the best overseas retirement destinations, a-la International Living. (I guess if you do something for 35 years, sooner or later somebody else will catch on.)
But some folks can still see it as a strange idea…and 35 years ago, when International Living first started publishing information about moving abroad for a happier, healthier, more affordable retirement, it was an even more exotic idea than it is today.
Since the advent of the internet, of course, it's now possible not only to learn about the concept of retiring overseas, but to talk directly to the people who are doing it. They answer questions about living and retiring abroad every day on IL's Facebook pages and on the IL community bulletin board…and on hundreds of other pages, blogs, and bulletin boards from every corner of the globe.
In fact, it's hard not to hear about people retiring abroad nowadays, especially with all those mainstream media outlets that are now jumping on the bandwagon.
It's also hard not to find the online resources that can help you make your own move as easily and enjoyably as possible. You can even take courses designed to teach you how to choose the overseas destination that best meets your own personal needs and wants, get yourself there efficiently, and make the best possible transition to the life you want for yourself there.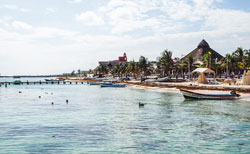 So the idea of cutting your cost of living in half, enjoying better weather, exploring the world, and still having access to quality healthcare doesn't sound nearly as outlandish as it used to before all these resources existed and everybody from the local newspaper to the nightly news started talking about it.
In other words, you don't have to feel as crazy for considering an overseas retirement as your family and friends might think you are. It's just that they aren't as up-to-date on the concept of overseas retirement as you are. Once you introduce them to the information and resources and firsthand experiences of people actually living the life, they'll probably start to get it.
And once they see you taking advantage of those resources to plan a reasonable, well-researched, and thoroughly thought-out move…well, you could get some help doing that research.
You might even get some other "crazy" folks thinking about accompanying you on your journey.
Get Your Free Retirement Haven Report Here:
Learn more about the best places in the world to retire in our daily postcard e-letter.
Simply enter your email address below to sign up for our free daily postcards and we'll also send you a FREE report on The World's Top Ten Retirement Havens.
Get Your Free Report Here