When you move overseas, you don't just benefit from the better weather, lower cost of living, and the affordable healthcare…you also open up a world of travel possibilities. During our working lives, we'd take those one- or two-week trips, and were lucky enough to see a few highlights.
But when you live in a foreign country, you have the opportunity to use this new location to travel to other countries as well as to explore the place you've chosen to live. This happened to me when I moved to Nicaragua.
Exploring South America was always on my bucket list. But it was a hefty trip to take from my home in San Diego, California. Not only was the airfare almost cost-prohibitive, but it was far. Since moving in Nicaragua, I was able to realize this bucket list dream when I took a six-month vacation around South America.
Leaving my home of San Juan del Sur by bus, I got a bird's-eye view of Costa Rica and Panama, including the surreal San Blas islands. I also explored Colombia, Ecuador, Peru, Chile, and Argentina. I learned about the different foods in each country, the customs, and attended fascinating festivals including the Black and White festival in Colombia where people run around spray-painting and dousing each other with talcum powder.
A stunning double rainbow appeared when I trekked up the mountain to Machu Picchu at dawn. In Argentina, I took a bicycle ride from winery to winery in Mendoza and sampled the best Malbecs in the world. I also watched in awe as the Perito Moreno glacier calved (when a chunk of ice breaks off) in front of my eyes in Patagonia.
This trip would have been very difficult to manage financially and logistically if I had been still living in California. But in Nicaragua, I was able to rent out my ocean-view home for enough money to pay for the trip.
Living in Nicaragua, I have the opportunity to explore the countryside and see things that I would never have seen had I just visited on vacation. For example, some Nicaraguan friends surprised me with their secret place to horseback ride. We went plodding through the dense forest until we reached five beautiful, crystal-clear, turquoise pools, each one connecting to the other with a small, smooth waterfall forming natural slides.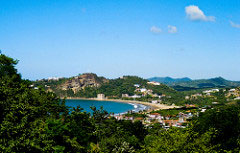 Another time I found a waterfall with my friends that most Nicaraguans don't even know about. You have to walk through farms and after swimming in the luscious clear water, I discovered a place where the campesinos (farmers) make a natural moonshine. They cut down a jicaro tree, lay it lengthwise on the ground, cut several deep holes along the trunk into the core, and let the sap ferment in the sun. With a reed from a nearby pond, I drank the mildly intoxicating beverage right from the tree trunk.
I've climbed Coseguina volcano in the northwestern part of Nicaragua, near Fonseca Bay, and was rewarded afterward with a swim in a huge, volcano-fed natural hot spring…this is something you won't find in any guidebook, it's a true hidden gem known only by the locals.
Many of my expeditions in Nicaragua result in invites to peoples' homes to eat with them, try their cususa (home-made corn liquor), or meet their families. I would never experience these priceless moments if I didn't live in Nicaragua.
Living in a foreign country opens a new world of exploration any day, any time. In Nicaragua you can go to a secluded beach, go fishing with local fishermen and fish with a line wrapped around a block of wood, or find a hidden estuary where you can watch all sorts of birds that come to roost. Or you may just happen on a tiny hidden restaurant that has boa, bull-ball soup, or armadillo on the menu.
By moving to Nicaragua, an exotic new world has opened up for me to explore.
Get Your Free Nicaragua Report Here:
Learn more about Nicaragua and other countries in our daily postcard e-letter. Simply enter your email address below and we'll send you a FREE REPORT –  Start a New Life on the Beach in Nicaragua.
This special guide covers real estate, retirement and more in Nicaragua and is yours free when you sign up for our IL postcards below.
Get Your Free Report Here