Tall street lamps with hanging lanterns light up the Santo Domingo square in Oaxaca, south-east Mexico. Home to Mexico's most vibrant art and crafts scene, some outstandingly colorful festivals, and diverse natural riches, this is where my wife Erica and I currently call home. Before Mexico, our home was in a variety of different destinations including Malaysia, Costa Rica, and more.
After the global financial crisis almost wiped us out, we picked ourselves up and decided to research places in the world where we could afford to live.
In early 2015, we bought one-way tickets to Kuala Lumpur to explore Malaysia and Southeast Asia. Our primary aim was to check out countries that would allow residence for retirees. Malaysia has a My Second Home program (MM2H) and is an easy place to get residence. It has good healthcare in private hospitals and is less than half the cost to live compared to home.
Over three months, we explored from Langkawi in the north to Malacca in the south. We also visited Penang and Ipoh. We loved our time roaming Malaysia and realized we are true nomads; we don't need to settle in one place.
By traveling "slow", we get to know the country we are exploring in depth and are able to manage costs. Take Malaysia for example. We discovered that most of the private hospitals here have Western-standard facilities and cost little more than a hotel room for an overnight stay.
We liked Ipoh for its food but the climate was too hot for us. We used Malaysia's inexpensive bus system to head south to Malacca. This cost only $10 each and the journey took about six hours on a very comfortable bus. We spent three weeks living as Malaccans in a new apartment building called The Shore. We paid $320 a week for a new three-bedroom apartment. Its proximity to the tourist attractions without being right amongst them, made it ideal for retirees like ourselves.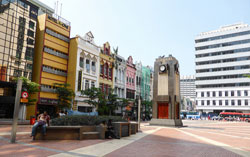 During a month in Sri Lanka, we discovered that it ticked all our boxes as a place to retire. Excellent, affordable healthcare, great climate, friendly people, and cheap housing.
One of the best things about Sri Lanka was the food. Breakfast included a sambal (hot sauce) of chopped red chilies, salt, and lime juice, served with rotis (a type of flat bread). There were always five dishes for dinner including dahl, swordfish curry, several vegetable curries, and sambals. In Kandy, in central Sri Lanka, we paid about $7 a day each for full board and food. You could rent and live well here for $1,100 a month.
Next we headed to east Bali, away from the tourist spots to Sideman and Amed. We stayed in a beachfront bungalow overlooking the Bali Sea and Mount Agung. For $28 a night, we felt like we were living in paradise…and like we'd stepped back in time. Sideman is the "old Bali" where people farm the same way they have for centuries.
In Guatemala, Central America, we stayed for three weeks in the colonial gem of Antigua, in the south, discovering the food, lifestyle, cost of living, and private medical care. Here we had access to a kitchen and cooked fresh vegetables, local-style, with lots of chili. The markets are huge and have every type of food imaginable at low prices.
After exploring Tikal—a Maya ruin in northern Guatemala about 30 minutes from the ancient town of Flores—and the beautiful Lake Atitlan in the west, we headed to Copan, Honduras. Copan is a famous Maya ruin—we approached through the jungle with scarlet macaws flying above us. We explored a little-visited area that has the best preserved hieroglyphics.
From Guatemala we took a bus to Leon in Nicaragua. Leon has a very warm climate, is just 20 minutes away from the Pacific Ocean, and its sea breezes made it a delightful place to stay for two weeks. Not many cities have a beach that close. Leon is also a university town and has much history to discover. We loved it.
We spent a week in San José, the capital of Costa Rica, before we hopped on a plane to Mexico City. It was a fascinating place, and we spent three weeks there familiarizing ourselves with the country. We stayed in a one-bedroom apartment in Amigo Suite, just off the Zocalo—the main square in Mexico City—for 20 days. This cost us only $37 a day including breakfast and dinner.
For us this is just the beginning. We have visited about 50 countries; there are still 150 left for us to explore. Soon we are heading off to the Balkan states, then to Sicily, Sardinia, Corsica, and Malta. Our advice is to "Seize The Day" and get out there and do it. If we can, you can too.
Image: ©iStock.com/jmorse2000
Get Your Free Report on the World's Best Places to Retire:
Learn more about the best places in the world to retire in our daily postcard e-letter.
Simply enter your email address below to sign up for our free daily postcards and we'll also send you a FREE report on The World's Top 10 Retirement Havens.
Get Your Free Report Here