"I think you're brilliant," a friend said to me on a visit to the States last summer.
Believe me, it's the first time I've been described that way.
"You know what you want and you figure out how to make it happen. You're not afraid of failure. You really are brilliant in that way."
Hmmm…wasn't this the same person who thought I was slightly off kilter…far on the other side of crazy…15 years ago when I mentioned I was going to quit my job and move overseas?
Yep, back in 2001 there was a lot of head shaking and dismay when my husband and I decided to sell practically everything we owned (home, furniture, cars, motorhome…) to pack up a few suitcases and the dog and head off to another continent.
We were in our prime earning years. We had a successful business and what most would describe as a "bright future."
But the thing is…we were in search of something even brighter. Brilliant, in fact.
Exhausted by dark, winter, Nebraska afternoons and excruciatingly boring corporate meetings in windowless conference rooms, we yearned for a life where we could spend most of every day outdoors.
We longed for a life of adventure and creativity…where we would have the freedom to do whatever we wanted whenever we wanted. (We were also dismayed by the politics of the U.S. back in 2001… and that hasn't changed much in 15 years. Political rhetoric doesn't add much to our personal quality of life.)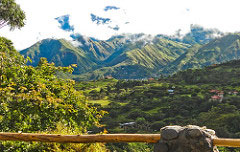 What has changed is that we're no longer at the mercy of bad weather, boring work, polarizing politics, and media pandering.
(We hardly ever watch television news…that's probably why our blood pressure is so low. Or maybe it's because our cost of living generally hovers between $1,500 and $2,000 a month. Try that in the States.)
At our home in Ecuador, our days are spent doing what makes us happy.
We go for long walks in the countryside, we shop for fresh produce at our local farmer's market, we might go to lunch with friends or stop for a latte and a pastry at our local coffee shop. In the evenings, we enjoy a glass of wine as we cook healthy meals together. Maybe we'll watch a movie or read a book or listen to some music.
We go on lots of relaxing weekend outings…to our local artisan market or to the rainforest, the cloud forest, the hot springs…
We don't own a car so we never have to spend our time or money on maintenance or insurance expenses. We live in a small apartment in a complex with lush, colorful gardens where we always have fresh avocados, carrots, beets, herbs, limes, and figs readily available whenever we want. (We can work in the garden if we like, but have full-time staff who tend the grounds and do all the building maintenance work.)
And I should mention our housekeeper. She comes every week for a couple of hours to clean our small apartment. She charges us $15 for that, which is more than double Ecuador's minimum hourly wage—a win/win situation for both of us.
And here's the thing: from the beginning, we knew this life would work out. We were never…not once…afraid of failure. The worst case was that we would have to return home, but having had an illuminating, life-changing adventure.
The best case: well, you can see how it's turned out…
Were we foolish to cut our ties to the dark and frenetic workaday life in the U.S. for our sunnier, happier, and far more carefree existence in Ecuador?
Brilliantly crazy, I'd say.
Get Your Free Ecuador Report Here:
Learn more about Ecuador and other countries in our daily postcard e-letter.
Simply enter your email address below and we'll send you a FREE REPORT – Ecuador: Live Like Royalty on Your Social Security.
This special guide covers real estate, retirement and more in Ecuador and is yours free when you sign up for our postcards below.
Get Your Free Report Here