One of the most rewarding aspects of living in a foreign country is discovering something new. It lends a certain excitement to your life to know that every day might bring a new experience. I especially like it when you find something new when you weren't looking and least expected it.
Recently, my wife Rita and I decided to take a bus from our home in the resort city of Salinas to visit Manta, a trip of about 120 miles. We thought it would be fun to take the bus all the way up the Pacific coast, to see some new scenery, and to spend a few days exploring the area.
We always enjoy taking the regional buses. They're usually very comfortable, easy to use, and are quite inexpensive. The four-hour trip to Manta costs me $8, and Rita, who qualifies for the "third age" discount, only $4.
Getting a bus ticket in Ecuador is a little different. You don't go up to one ticket counter, state your destination, and then get a ticket. Instead, there are multiple counters organized by destination. You find your destination, and there may be two or more cooperativas selling tickets. There can be differences in the route they take, and whether they are express runs.
To make a long story short, instead of getting seats on a bus that went directly to Manta via the coastal route, we accidently ended up on a bus that once we reached the coastal town of Puerto Cayo, took a detour through the mountain town of Jipijapa before heading to Manta.
As an expat you learn to roll with the changes, so we weren't too concerned. After all, the purpose of our trip was to see new things, and we had no particular time limit for arriving at our hotel in Manta. The mountain vistas were also a nice treat, so we were enjoying ourselves.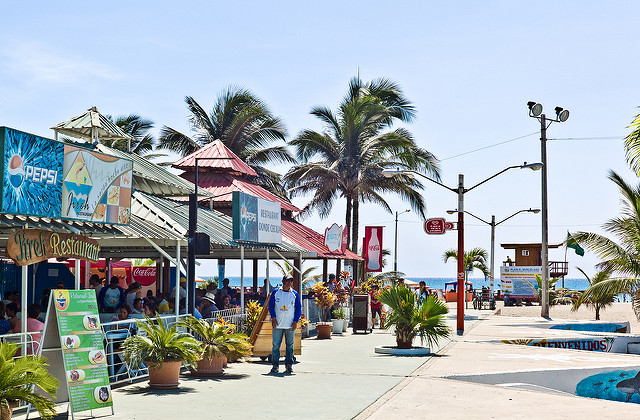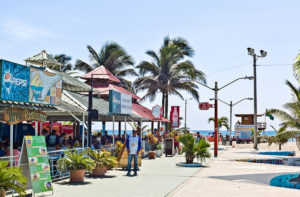 In between Jipijapa and the city of La Pila, we came through a village where we noticed almost every home and shop had a bread oven sitting out front, connected to a propane tank via a rubber hose. These ovens stood about four-feet tall, with four or five drawers for baking.
Now, it's not uncommon on Ecuadorian buses to have someone jump on, walk up and down the aisle selling food or coconut water, and jump off at the other end of town. That is what happened here. A young man got on the bus carrying a box that smelled wonderful. When he got to our seats, I asked him what they were, and how much? He was selling the two products everyone was baking; tortilla de maiz, and pan de yuca, three for $1.
Rita is usually pretty cautious when it comes to trying new things, especially out of a box on a bus, but we were a both a little hungry, and like I said, they smelled wonderful, so we bought a few of each.
The tortilla de maiz turned out to be a small biscuit made with corn meal, and with a center of melted cheese. They were good, but what really made the detour worthwhile for us was the pan de yuca (yucca bread). Yucca is a fibrous root very common in South America. It is eaten in a variety of ways, but in this case, it had been smashed, dried, and ground into flour. This flour is used to make pan de yuca .
They were still warm and a light golden brown. They were just crunchy enough on the outside to give a little resistance when you bit into them, but inside they were soft and a little sweet, with a warm melted cheese center. Heaven! We immediately looked for the young man to buy some more, but he had already jumped off, and the bus was moving on.
Since then, we have found plenty of local places to get this new-to-us treat. In fact, it turns out that it is a pretty common snack.
All of this is part of the adventure of living in a foreign land…there can be wonderful new things all around you, but sometimes you only find them when you are not looking.
Get Your Free Ecuador Report Here:
Learn more about Ecuador and other countries in our daily postcard e-letter.
Simply enter your email address below and we'll send you a FREE REPORT – Ecuador: Live Like Royalty on Your Social Security.
This special guide covers real estate, retirement and more in Ecuador and is yours free when you sign up for our postcards below.

Get Your Free Report Here