In 2008, when my husband Paul and I first started talking about the possibility of retiring overseas, we really only considered two countries: Mexico and Costa Rica. I often wonder why we didn't consider more countries at the time; there are so many great options. At the time, though, we only thought of countries where we'd had some personal experience.
First up was Mexico. Paul lived and went to college there in the '70s and has always had a love for both the country and its culture, so it was natural that Mexico was on our short list. I had visited Costa Rica on a business trip in the '90s and remembered it as a beautiful country that I always wanted to visit again.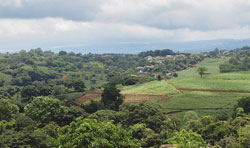 Early on, we crossed Mexico off of our list. We had been there in 2003 on our honeymoon but it wasn't quite right for us.
So, we delved into our research about Costa Rica and planned our first trip together to visit in January 2008. The country didn't disappoint—it was just as beautiful as I remembered and both Paul and I were enchanted by the mountains, the lush green landscapes, the slower pace of life, and the people.
For us, it was important that our adopted home have a stable democracy. Costa Rica more than delivers on that front—it's had a stable democracy since 1821. And we wanted to live in a place where we could walk the towns and drive the highways without fear and we have always felt safe here.
Access to quality healthcare was also important. Costa Rica has a good national healthcare system (known as the Caja) and affordable private healthcare. We use a mixture of both. The Caja is great for regular doctor visits and for emergency care. And if we want to speed up the wait times by seeing a specialist or having a diagnostic test done privately, the costs are much less than we were used to in the U.S.
Another big consideration for us was climate. We were moving from Baltimore where the summers are too hot and the winters are too cold. We wanted a temperate climate where we could enjoy living with our doors and windows wide open year-round. The mountains of the Central Valley promised daily temperatures mostly in the 70s and 80s, which sounded perfect to us. The reality has been even better than we could have hoped. Mornings and evenings are cool enough for a sweater or light blanket and the afternoons are usually in the mid-70s.
Certainly, as for most retirees, an affordable cost of living is what would make it all possible. We've found that in Costa Rica. One of the things that keeps our cost of living down is that we live in the mountains of the Central Valley where we never need heat or air conditioning. We've been able to live comfortably on less than $2,000 per month, including rent and a car. Take a look at our January expenses, for example: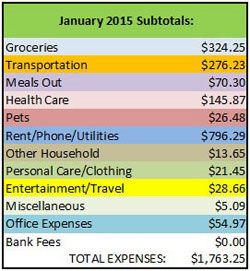 There are so many other things that we love about living in Costa Rica. We love that you can drink the water out of the faucet just about anywhere in the country. We love that, instead of supporting a standing army and navy, they put their money into public health and education. And Costa Rica has an excellent and affordable public transportation system so you don't have to own a car if you don't want to.
I could go on and on…but if you want to get the full details from us, you can come to hear about our experiences in Costa Rica at the Ultimate Retire Overseas Conference. We'll be there for the entire conference, so any questions you might have, you can ask us there.
Editor's note: This year could be the year you, like Gloria and Paul, discover your ideal retirement overseas… At the Ultimate Retire Overseas Conference this June, we'll introduce you to the best places in the world to have the lifestyle you dream of, from as little as $1,300 a month per couple—including rent!
Get Your Free Best Places to Retire Report Here:
Learn more about the best places in the world to retire in our daily postcard e-letter.
Simply enter your email address below to sign up for our free daily postcards and we'll also send you a FREE report on The World's Top 10 Retirement Havens.
Get Your Free Report Here