Swimming with endangered green sea turtles in Akumal, strolling the cobblestone shopping district in Playa del Carmen, exploring cenotes or ancient Maya ruins or just lazing in a hammock…this is my life today. But it's a far cry from where my husband Don and I were back in 2008. In the wake of the financial collapse and the deep recession that followed, our comfortable existence was completely upended.
At an age when we expected we could begin to slow down, we found ourselves starting over in a very inhospitable economy. Add to that Don's second heart attack and the loss of his health insurance when his job disappeared, and you have a recipe for real desperation.
But we were smart, educated people who had spent our professional careers helping others in the non-profit sector. Surely we could figure out a way to help ourselves during this time of crisis in our own lives.
As we struggled to keep afloat, Don began to search for out-of-the-box solutions to our untenable situation. Then he stumbled across an International Living article about retiring overseas. He spent a few days researching before approaching me with the idea. You see, we hadn't spent our working years planning for life as expats. In fact, I don't think it ever occurred to us.
But Don's research revealed that retiring overseas might be a viable option for us. He found that there were places—beautiful, interesting places—where we could live well on just one $1,600 Social Security check a month.
I was excited about the idea right from the start. And the more we learned, the more we felt that retiring abroad could be the answer for us.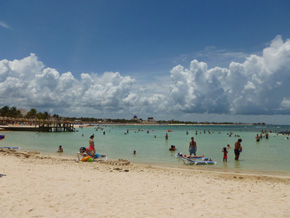 At the time, International Living had named Ecuador as the #1 retirement destination in the world for North American retirees. As we developed our criteria for choosing a destination and compared several options, Ecuador was at the top of our list as well. So, after shedding the trappings of our American lifestyle, we headed to the sleepy fishing and farming village of San Vicente, Ecuador with three suitcases apiece and our beloved Chihuahua, Carmine.
The tranquil setting and slow, easy pace of life in San Vicente—and it's slightly larger sister-city of Bahia de Caraquez just across the bay—turned out to be the perfect environment in which to decompress after years of struggling and decades of work. The drop in our stress level was profound and immediate.
Instead of sinking further into a hole each month, we were actually able to regularly put money into savings. Our first apartment in San Vicente was a beautiful, fully furnished, two-bedroom, two-bathroom place in a gated community with two pools, lush, flowering vegetation, and numerous fruit trees, directly overlooking the Pacific Ocean. Our rent was just $450 per month, and we could enjoy our ocean view and lush surroundings without a worry in the world.
After two years in Ecuador, and with our finances vastly improved and our confidence boosted, we made our second international move, this time to Cancún, Mexico. Today we have a lifestyle I never imagined possible. We rent a gorgeous condo right on the beach in Cancún's famed Zona Hotelera, with stunning views of the Caribbean Sea or Nichupte Lagoon from every window.
The number one tourist destination beach in the Western Hemisphere is steps from our door, and serves as our backyard, gym, and romantic getaway spot. Warm breezes and the sounds of the surf lull us to sleep at night. There are more opportunities for recreation, entertainment, and cultural exploration within easy reach than we could ever exhaust. Our Spanish has improved tremendously, as has our understanding of Latin American culture.
The past three years have been the most interesting of our lives, and today, we live virtually stress free…a world away from our worrisome, tiresome lives in the States.
Get Your Free Report on the World's Top 10 Retirement Havens
Learn more about the best places in the world to retire in our daily postcard e-letter.
Simply enter your email address below to sign up for our free daily postcards and we'll also send you a FREE report on The World's Top 10 Retirement Havens.
Get Your Free Report Here