My wife and I celebrated our 19th anniversary last week.
The length of our marriage roughly coincides with the length of our journey of discovery exploring the world (and ourselves) on behalf of International Living.
Married in 1997, it took three years of anticipation, trepidation, and preparation before we actually moved overseas, beginning our expat lives in Quito, Ecuador, in 2001.
I was convinced that we'd moved to the place where we'd live until we died. Ecuador in general—and the bustling city of Quito in particular—seemed to have everything we needed or wanted for an interesting, adventurous, high-quality life. And at the time, I figured that's how being an expat worked…you pick a place and move there, and that's that. Even if you eventually get the itch to live somewhere else, you make the best of it and stick it out where you land.
I've since come to realize that "making the best of it" and "sticking it out" are essentially what we'd been doing back in the U.S. before our move. We were making the best of high taxes and utility bills and sticking it out through brutal winters. It was precisely to get away from making the best of it and sticking it out that we moved abroad in the first place.
And once we got one move under our belt, we realized there was no reason not to do it again if there were somewhere else we wanted to explore.
We discovered that we wanted to explore Mexico.
So we spent some quality time crisscrossing Mexico from north to south and east to west in a little pickup truck, looking for just the right spot. This, I believe was the true test of our then-young marriage. If you can not only survive, but thoroughly enjoy, a few months on the road in a foreign country in a tiny pickup with no itinerary in place, your relationship is made to last.
And again, when we finally got to the village of Ajijic, south of Guadalajara on the shores of Lake Chapala, I kind of figured we'd be there the rest of our lives. The lakeside area in general—and the quaint little village of Ajijic in particular, seemed to have everything we needed or wanted for an interesting, adventurous, high-quality life.
And it certainly did…until we heard about San Miguel de Allende.
See the pattern starting to emerge?
I didn't. When we moved to San Miguel, I once again figured that we'd put down roots and live out the rest of our days there. Mexico in general—and beautiful and historic San Miguel in particular…
You get the drift.
So when we got the itch to try Panama, I pretty much knew what we'd become…
Serial relocators.
We'd become so good at moving to and exploring new places that the moving and exploring became the object instead of the destination itself.
Which is why, after spending a while in Panama, Nicaragua started to look interesting.
And while we were enjoying ourselves down in San Juan del Sur, Merida and Mexico's Yucatan Peninsula caught our attention.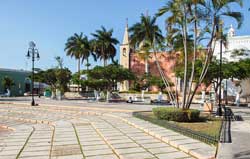 In Merida, we were extremely happy as we continued to take trips to and explore other popular expat havens, including a spot we'd visited back when we lived in Quito in 2001…the little craft village of Cotacachi a couple hours north, just off the PanAmerican Highway.
And even though the Yucatan in general—and the clean, progressive city of Merida in particular—seemed to have everything we needed or wanted for an interesting, adventurous, high-quality life…we are now happy residents of Ecuador again, based in our little mountain paradise of Cotacachi.
I've been replaying all this in my mind as Suzan and I celebrate 19 years of…I was going to say wedded bliss, but it's so much more. I don't know what Suzan might have done if we hadn't met and thrown in together back then, but I'm pretty sure I'd have never made it out of Omaha, Nebraska, much less live in seven different communities in four Latin American countries…and get the opportunity to explore dozens of other destinations around the world that we haven't lived in yet.
Yet.
How many more years have we left to do this? Who knows? I didn't know we'd have the first 19. But I see no reason to stop now.
The life of an expat serial relocator is unpredictable…and that's at least half the fun. Here's to the next 19, whatever they bring.
Get Your Free Report on the World's Best Places to Retire:
Learn more about the best places in the world to retire in our daily postcard e-letter.
Simply enter your email address below to sign up for our free daily postcards and we'll also send you a FREE report on The World's Top 10 Retirement Havens.

Get Your Free Report Here